Learning is important
26th September 2013
Page 2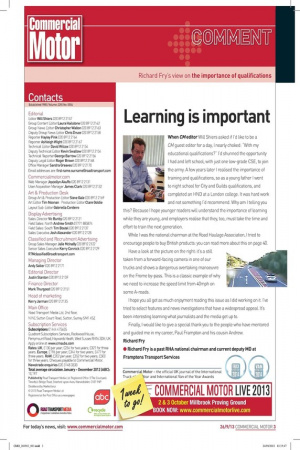 Page 2, 26th September 2013 —
Learning is important
Close
When CM editor WiliShiers asked if I'd like to be a CM guest editor for a day, I nearly choked: With my educational qualifications?" I'd shunned the opportunity I had and left school, with just one low-grade CSE, to join the army. A few years later I realised the importance of training and qualifications, so as a young father I went to night school for City and Guilds qualifications, and completed an HND at a London college. It was hard work and not something I'd recommend. Why am I telling you
this? Because I hope younger readers will understand the importance of learning while they are young, and employers realise that they, too, must take the time and effort to train the next generation.
While I was the national chairman at the Road Haulage Association, I tried to encourage people to buy British products: you can read more about this on page 40.
Have a look at the picture on the right: it's a still taken from a forward-facing camera in one of our trucks and shows a dangerous overtaking manoeuvre on the Frome by-pass. This is a classic example of why we need to increase the speed limit from 40mph on some A-roads.
I hope you all get as much enjoyment reading this issue as I did working on it. I've tried to select features and news investigations that have a widespread appeal. It's been interesting learning what journalists and the media get up to.
Finally, I would like to give a special thank you to the people who have mentored and guided me in my career, Paul Frampton and his cousin Andrew. Richard Fry • Richard Fry is a past RHA national chairman and current deputy MD at Framptons Transport Services