Judge upholds transport manager's appeal
26th September 2013
Page 18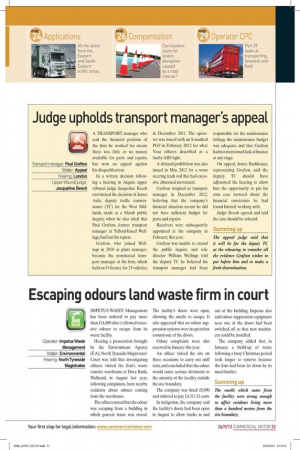 Page 18, 26th September 2013 —
Judge upholds transport manager's appeal
Close
A TRANSPORT manager who said the financial position of the firm he worked for meant there was little or no money available for parts and repairs, has won an appeal against his disqualification.
In a written decision following a hearing in August, upper tribunal judge Jacqueline Beech overturned the decision of James Astle, deputy traffic commissioner (TC) for the West Midlands, made at a March public inquiry, when he also ruled that Paul Grafton, former transport manager at Telford-based Wettings, had lost his repute. Grafton, who joined Wettings in 2010 as plant manager, became the nominated transport manager at the firm, which held an 0-licence for 24 vehicles,
in December 2011. The operator was issued with an S-marked PG9 in February 2012 for what Vosa officers described as a faulty ABS light.
A delayed prohibition was also issued in May 2012 for a worn steering track rod that had excessive abnormal movement.
Grafton resigned as transport manager in December 2012, believing that the company's financial situation meant he did not have sufficient budget for parts and repairs.
Receivers were subsequently appointed at the company in February this year. Grafton was unable to attend the public inquiry and sole director William Wettings told the deputy TC he believed his transport manager had been
responsible for the maintenance failings, the maintenance budget was adequate and that Grafton had not mentioned lack of finance at any stage.
On appeal, James Backhouse, representing Grafton, said the deputy TC should have adjourned the hearing to allow him the opportunity to put his own case forward about the financial constraints he had found himself working with.
Judge Beech agreed and said the case should be reheard.
Summing up
The appeal judge said that it will be for the deputy TC at the rehearing to consider all the evidence Grafton wishes to put before him and to make a fresh determination.