Escaping odours Land waste firm in court
26th September 2013
Page 18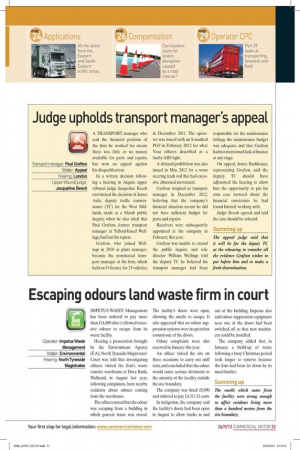 Page 18, 26th September 2013 —
Escaping odours Land waste firm in court
Close
IMPETUS WASTE Management has been ordered to pay more than £14,400 after it allowed excessive odours to escape from its waste facility.
Hearing a prosecution brought by the Environment Agency (EA), North Tyneside Magistrates' Court was told that investigating officers visited the firm's waste transfer warehouse at Davy Bank, Wallsend, in August last year, following complaints from nearby residents about odours coming from the warehouse.
The officers noted that the odour was escaping from a building in which general waste was stored.
The facility's doors were open, allowing the smells to escape. It also appeared that no odour suppression systems were in operation around one of the doors.
Odour complaints were also received in January this year.
An officer visited the site on three occasions to carry out sniff tests, and concluded that the odour would cause serious detriment to the amenity of the locality outside the site boundary.
The company was fined £9,990 and ordered to pay £4,311.33 costs. In mitigation, the company said the facility's doors had been open in August to allow trucks in and
out of the building. Impetus also said odour suppression equipment near one of the doors had been switched off so that new machinery could be installed.
The company added that, in January, a build-up of waste following a busy Christmas period took longer to remove because the firm had been let down by its usual haulier.
Summing up
The smells which came from the facility were strong enough to affect residents living more than a hundred metres from the site boundary.