TC refuses to grant new company an 0-licence
26th September 2013
Page 17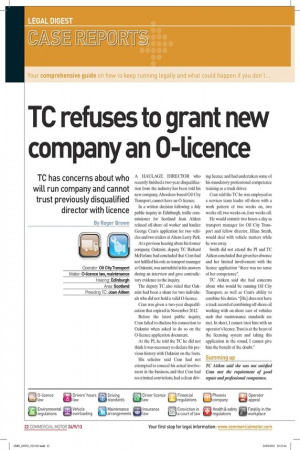 Page 17, 26th September 2013 —
TC refuses to grant new company an 0-licence
Close
TC has concerns about who will run company and cannot trust previously disqualified director with licence By Roger Brown
A HAULAGE DIRECTOR who recently finished a two-year disqualification from the industry has been told his new company, Aberdeen-based Oil City Transport, cannot have an 0-licence.
In a written decision following a July public inquiry in Edinburgh, traffic commissioner for Scotland Joan Aitken refused off-shore oil worker and haulier George Cran's application for two vehicles and two trailers at Altens Lorry Park.
At a previous hearing about his former company, Oakmist, deputy TC Richard McFarlane had concluded that Cran had not fulfilled his role as transport manager at Oakmist, was untruthful in his answers during an interview and gave contradictory evidence to the inquiry.
The deputy TC also ruled that Oakmist had been a sham for two individuals who did not hold a valid 0-licence.
Cran was given a two-year disqualification that expired in November 2012.
Before the latest public inquiry, Cran failed to disclose his connection to Oakmist when asked to do so on the 0-licence application document.
At the PI, he told the TC he did not think it was necessary to declare his previous history with Oakmist on the form. His solicitor said Cran had not attempted to conceal his actual involvement in the business, and that Cran had no criminal convictions, had a clean driv
ing licence and had undertaken some of his mandatory professional competence training as a truck driver.
Cran told the TC he was employed as a services team leader off-shore with a work pattern of two weeks on, two weeks off two weeks on, four weeks off.
He would commit two hours a day as transport manager for Oil City Transport and fellow director, Jillian Smith, would deal with vehicle matters while he was away.
Smith did not attend the PI and TC Aitken concluded that given her absence and her limited involvement with the licence application "there was no sense of her competence".
TC Aitken said she had concerns about who would be running Oil City Transport, as well as Cran's ability to combine his duties. "[He] does not have a track record of combining off-shore oil working with on-shore care of vehicles such that maintenance standards are met. In short, I cannot trust him with an operator's licence. Trust is at the heart of the licensing system and taking this application in the round, I cannot give him the benefit of the doubt."
Summing up
TC Aitken said she was not satisfied Cran met the requirement of good repute and professional competence.