MERCEDES ACTROS
26th September 2013
Page 15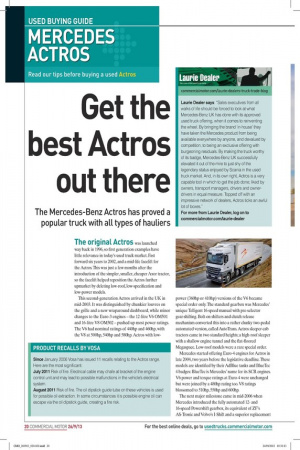 Page 16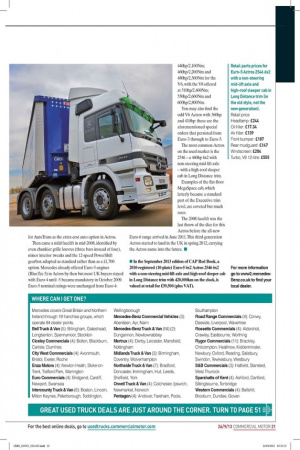 Page 15, 26th September 2013 —
MERCEDES ACTROS
Close
Read our tips before buying a used k
Get the best Actros out there
The Mercedes-Benz Actros has proved a popular truck with all types of hauliers
The original Actros was launched way back in 1996, so first generation examples have little relevance in today's used truck market. Fast forward six years to 2002, and a mid-life facelift for the Actros. This was just a few months after the introduction of the simpler, smaller, cheaper Axor tractor, so the facelift helped reposition the Actros further upmarket by deleting low-roof, low-specification and low-power models. This second-generation Actros arrived in the UK in mid-2003. It was distinguished by chunkier louvres on the grille and a new wraparound dashboard, while minor changes to the Euro-3 engines — the 12-litre V6 0M501 and 16-litre V8 0M502 — pushed up most power ratings. The V6 had nominal ratings of 440hp and 460hp, with the V8 at 500hp, 540hp and 580hp. Actros with low
power (360hp or 410hp) versions of the V6 became special order only. The standard gearbox was Mercedes' unique Telligent 16-speed manual with pre-selector gear-shifting. Bolt-on shifters and clutch release mechanism converted this into a rather clunky two-pedal automated version, called AutoTrans. Actros sleeper-cab tractors came in two standard heights; a high-roof sleeper with a shallow engine tunnel and the flat-floored Megaspace. Low-roof models were a rare special order.
Mercedes started offering Euro-4 engines for Actros in late 2004, two years before the legislative deadline. These models are identified by their AdBlue tanks and BlueTec 4 badges: BlueTec is Mercedes' name for its SCR engines. V6 power and torque ratings at Euro-4 were unchanged but were joined by a 480hp rating too. V8 ratings blossomed to 510hp, 550hp and 600hp. The next major milestone came in mid-2006 when Mercedes introduced the fully automated 12and 16-speed Powershift gearbox, its equivalent of ZF's AS-Tronic and Volvo's I-Shift and a superior replacement
for AutoTrans as the extra-cost auto option in Actros. Then came a mild facelift in mid-2008, identified by even chunkier grille louvres (three bars instead of four), minor interior tweaks and the 12-speed PowerShift gearbox adopted as standard rather than as a £1,700 option. Mercedes already offered Euro-5 engines (BlueTec 5) in Actros by then but most UK buyers stayed with Euro-4 until -5 became mandatory in October 2009. Euro-5 nominal ratings were unchanged from Euro-4:
440hp/2,100Nm; 460hp/2,200Nm and 480hp/2,300Nm for the V6, with the V8 offered at 510hp/2,400Nm; 550hp/2,600Nm and 600hp/2,800Nm.
You may also find the odd V6 Actros with 360hp and 410hp: these are the aforementioned special orders that persisted from Euro-3 through to Euro-5.
The most common Actros on the used market is the 2546— a 460hp 6x2 with non-steering mid-lift axle — with a high-roof sleeper cab in Long Distance trim.
Examples of the flat-floor MegaSpace cab, which latterly became a standard part of the Executive trim level, are coveted but much rarer. The 2008 facelift was the last throw of the dice for this Actros before the all-new Euro-6 range arrived in June 2011. This third-generation Actros started to land in the UK in spring 2012, carrying the Actros name into the future. •
• In the September 2013 edition of CAP Red Book, a 2010-registered (10-plate) Euro-5 6x2 Actros 2546 6x2 with a non-steering mid-lift axle and high-roof sleeper cab in Long Distance trim with 420,000km on the clock, is valued at retail for £39,500 (plus VAT).