Don't start stacking shelves just yet...
26th September 2013
Page 13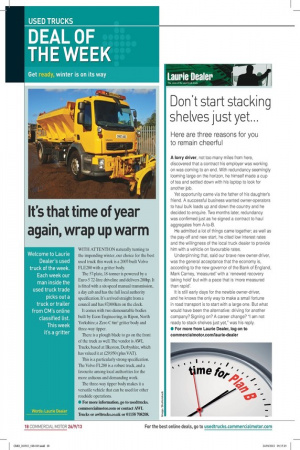 Page 13, 26th September 2013 —
Don't start stacking shelves just yet...
Close
Here are three reasons for you to remain cheerful
A lorry driver, not too many miles from here, discovered that a contract his employer was working on was coming to an end. With redundancy seemingly looming large on the horizon, he himself made a cup of tea and settled down with his laptop to look for another job.
Yet opportunity came via the father of his daughter's friend. A successful business wanted owner-operators to haul bulk loads up and down the country and he decided to enquire. Two months later, redundancy was confirmed just as he signed a contract to haul aggregates from A-to-B.
He admitted a lot of things came together; as well as the pay-off and new start, he cited low interest rates and the willingness of the local truck dealer to provide him with a vehicle on favourable rates.
Underpinning that, said our brave new owner-driver, was the general acceptance that the economy is, according to the new governor of the Bank of England, Mark Carney, 'measured' with a 'renewed recovery taking hold' but with a pace that is more measured than rapid'.
It is still early days for the newbie owner-driver, and he knows the only way to make a small fortune in road transport is to start with a large one. But what would have been the alternative: driving for another company? Signing on? A career change? "I am not ready to stack shelves just yet," was his reply. • For more from Laurie Dealer, log on to commercial motor.com/laurie-dealer