A heavy responsibility
26th September 2013
Page 10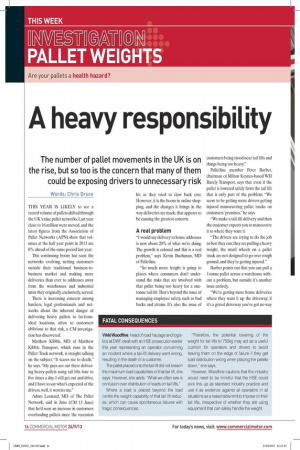 Page 11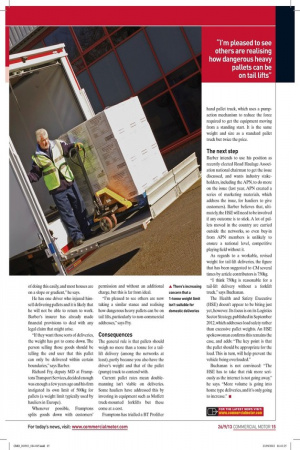 Page 10, 26th September 2013 —
A heavy responsibility
Close
The number of pallet movements in the UK is on the rise, but so too is the concern that many of them could be exposing drivers to unnecessary risk Words: Chris Druce
THIS YEAR IS LIKELY to see a record volume of pallets shifted through the UK's nine pallet networks. Last year close to 16 million were moved, and the latest figures from the Association of Pallet Networks (APN) show that volumes at the half year point in 2013 are 8% ahead of the same period last year.
This continuing boom has seen the networks evolving, netting customers outside their traditional business-tobusiness market and making more deliveries than ever to addresses away from the warehouses and industrial units they originally, exclusively, served.
There is increasing concern among hauliers, legal professionals and networks about the inherent danger of delivering heavy pallets to far-fromideal locations, often to customers oblivious to that risk, a CM investigation has discovered.
Matthew Kibble, MD of Matthew Kibble Transport, which runs in the Pallet-Track network, is straight-talking on the subject. "It scares me to death," he says. "My guys are out there delivering heavy pallets using tail lifts four to five times a day. I still get out and drive, and I have to say what's expected of the drivers, well, it worries me." Adam Leonard, MID of The Pallet Network, said in June (CM 13 June) that he'd seen an increase in customers overloading pallets since the recession
hit as they tried to claw back cost. However, it is the boom in online shopping, and the changes it brings in the way deliveries are made, that appears to be causing the greatest concern.
A real problem
"I would say delivery to home addresses is now about 20% of what we're doing. The growth is colossal and this is a real problem," says Kevin Buchanan, MD of Palletline. "So much more freight is going to places where consumers don't understand the risks that are involved with that pallet being too heavy for a onetonne tail lift. That's beyond the issue of managing employee safety, such as bad backs and strains. It's also the issue of
customers being stood near tail lifts and things being too heavy."
Palletline member Peter Barber, chairman of Milton Keynes-based WH Barely Transport, says that even if the pallet is lowered safely from the tail lift that is only part of the problem. "We seem to be getting more drivers getting injured manoeuvring pallet trucks on customers' premises," he says.
"We make a tail-lift delivery and then the customer expects you to manoeuvre it to where they want it.
"The drivers are trying to do the job as best they can; they are pulling a heavy weight, the small wheels on a pallet truck are not designed to go over rough ground, and they're getting injured."
Barber points out that you can pull a 1-tonne pallet across a warehouse without a problem, but outside it's another issue entirely. "We're getting more home deliveries where they want it up the driveway; if it's a gravel driveway you've got no way
of doing this easily, and most houses are on a slope or gradient," he says.
He has one driver who injured himself delivering pallets and it is likely that he will not be able to return to work. Barber's insurer has already made financial provisions to deal with any legal claim that might arise.
"If they want those sorts of deliveries, the weight has got to come down. The person selling those goods should be telling the end user that this pallet can only be delivered within certain boundaries," says Barber.
Richard Fry, deputy MD at Framptons Transport Services, decided enough was enough a few years ago and his firm instigated its own limit of 500kg for pallets (a weight limit typically used by hauliers in Europe). Whenever possible, Framptons splits goods down with customers'
permission and without an additional charge, but this is far from ideal.
"I'm pleased to see others are now taking a similar stance and realising how dangerous heavy pallets can be on tail lifts, particularly to non-commercial addresses," says Fry.
Consequences
The general rule is that pallets should weigh no more than a tonne for a taillift delivery (among the networks at least), partly because you also have the driver's weight and that of the pallet (pump) truck to contend with.
Current pallet rates mean doublemanning isn't viable on deliveries. Some hauliers have addressed this by investing in equipment such as Moffett truck-mounted forklifts but these come at a cost. Framptons has trialled a BT Prolifter
hand pallet truck, which uses a pumpaction mechanism to reduce the force required to get the equipment moving from a standing start. It is the same weight and size as a standard pallet truck but twice the price.
The next step
Barber intends to use his position as recently elected Road Haulage Association national chairman to get the issue discussed, and wants industry stakeholders, including the APN, to do more on the issue (last year, APN created a series of marketing materials, which address the issue, for hauliers to give customers). Barber believes that, ultimately, the HSE will need to be involved if any outcome is to stick. A lot of pallets moved in the country are carried outside the networks, so even buy-in from APN members is unlikely to ensure a national level, competitive playing field without it.
As regards to a workable, revised weight for tail-lift deliveries, the figure that has been suggested to CM several times by article contributors is 750kg.
"I think 750kg is reasonable for a tail-lift delivery without a forklift truck," says Buchanan.
The Health and Safety Executive (HSE) doesn't appear to be biting just yet, however. Its focus is on its Logistics Sector Strategy, published in September 2012, which addresses load safety rather than excessive pallet weights. An HSE spokeswoman confirms this remains the case, and adds: "The key point is that the pallet should be appropriate for the load. This in turn, will help prevent the vehicle being overloaded." Buchanan is not convinced: "The HSE has to take that risk more seriously as the internet is not going away," he says. "More volume is going into home type deliveries, and it's only going to increase." •