Five-man Cab in Thorny croft Fire Tender
26th October 1956
Page 61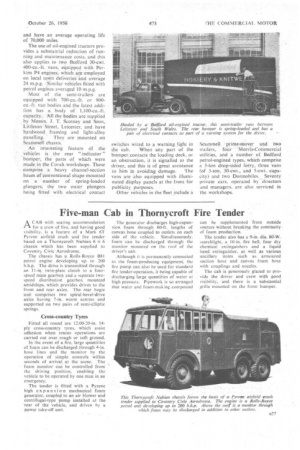 Page 61, 26th October 1956 —
Five-man Cab in Thorny croft Fire Tender
Close
ACAR with seating accommodation for a crew of five, and having good visibility, is a feature of a Mark 6T Pyrene airfield crash and fire tender based on a Thornycroft Nubian 6 x 6 chassis which has been supplied to Coventry Civic Aerodrome.
The chassis has a Rolls-Royce 881 petrol engine developing up to 200 b.h.p. The drive is transmitted through an 11-in, twin-plate clutch to a fourspeed main gearbox and a separate twospeed distribution gearbox mounted amidships, which provides drives to the front and rear axles. The rear bogie unit comprises two spiral-bevel-drive axles having 7-in, worm centres and supported on two pairs of semi-elliptic springs.
Cross-country Tyres Fitted all round are 12.00-20-in. 14ply cross-country tyres, which assist adhesion when rescue operations are carried out over rough or soft ground.
In the event of a fire, large quantities of foam can be discharged through 4-in. hose lines and the monitor by the operation of simple controls within seconds of arrival_ at the scene. The foam monitor can be controlled from the driving position, enabling the vehicle to be operated by one map in an emergency.
The tender is fitted with a Pyrerie high exp an si o n mechanical foam generator, coupled to an air blower and centrifugal-type pump installed at the rear of the vehicle, and driven by a power take-off unit.
The generator discharges high-expansion foam through 60-ft. lengths cif canvas hose coupled to outlets on each side of the vehicle, Simultaneously. foam can be discharged through the monitor mounted on the roof of the driver's cab.
Although it is permanently conneCted to the foam-producing equipment, the fire pump can also be used for standard fire tender-operation, it being capable of discharging large quantities of water at high pressure. .Pipework is so arranged that water and foam-making compound
can be supplemented • from outside sources without breaking the continuity of foam production.
The tender also has a 9-in. dia. 86-W. searchlight, a 10-in, fire bell, four dry chemical extinguishers and a liquid hand extinguisher, as well as various ancillary items such as armoured suction hose and canvas foam hose with couplings and nozzles.
The cab is generously glazed to provide the driver and crew with good visibility, •and there is a substantial grille mounted on the front bumper.