New Tatras Have Torsion-bar Springing
26th October 1956
Page 49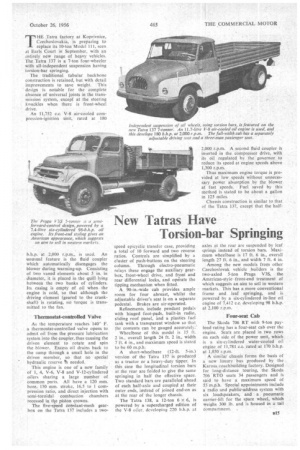 Page 49, 26th October 1956 —
New Tatras Have Torsion-bar Springing
Close
THE Tatra factory at Koprivnice. Czechoslovakia, is preparing to replace its 10-ton Model 111, seen at Earls Court in September, with an entirely new range of heavy vehicles. The Tatra 137 is a 7-ton four-wheeler with all-independent suspension having torsion-bar springing.
The traditional tubular backbone construction is retained, but with detail improvements to save weight. This design is notable for the complete absence of universal joints in the transmission system, except at the steering knuckles when there is front-wheel drive.
An 11,752 c.c. V-8 air-cooled compression-ignition unit, rated at 180 b.h.p. at 2,000 r.p.m., is used. An unusual feature is the fluid coupler which automatically disengages the blower during warming-up. Consisting of two vaned elements about 5 in. in diameter, it is placed in the quill lying between the two banks of cylinders. Its casing is empty of oil when the engine is cold, so that although the driving element (geared to the crankshaft) is rotating, no torque is transmitted to the fan,
Thermostat-conlrolled Valve
As the temperature reaches 140° F. a thermostat-controlled valve opens to admit oil from the pressure lubrication system into the coupler, thus causing the driven element to rotate and spin the blower. Excess oil drains back to the sump through a small hole in the driven member, so that no special hydraulic reserve TS needed.
This engine is one of a new family oil, 4, V-6, V-8 and V-12-cylindered oilers sharing a large number of common parts. All have a 120 mm. bore, 130 mm. stroke, 16.5 to 1 compression ratio, and direct injection with semi-toroidal combustion chambers recessed in the piston crowns.
The five-speed cobitant-mesh gearbox on the Tatra 137 includes a two
speed epicyclic transfer case, providing a total of 10 forward and two reverse ratios. Controls are simplified by a cluster of push-buttons on the steering column. Through electro-pneumatic relays these engage the auxiliary gearbox, front-wheel drive,. and front and rear differential locks, and operate the tipping mechanism when fitted.
A. 90-in.-wide cab provides ample room for four abreast, whilst the adjustable driver's seat is on a separate pedestal. Brakes are air-operated.
Refinements include pendant pedals with hinged foot-pads. built-in radio, sliding roof panel, and a plastics fuel tank with a transparent window so that the contents can be gauged accurately/ Wheelbase of this model is 15 ft. 2 in., overall length 24 ft. 2 in., width 7 ft. 4 in., and maximum speed is stated to be 60 m.p.h.
A short-wheelbase (12-ft. 5-in.) version of the Tatra 137 is produced as a tractor or a heavy-duty tipper. In this case the longitudinal torsion bars at the rear are folded to give the same springing in half the effective space. Two standard bars are paralleled ahead of each half-axle and coupled at their outer ends, instead of joined end-on as at the rear of the longer chassis.
The Tatra 138, a 12-ton 6 x 6, is powered by a supercharged edition of the V-8 oiler. developing 220 b.h.p. at
2,000 r.p.m. A second fluid coupler ts inserted in the compressor drive, with its oil regulated by the governor to reduce its speed at engine speeds above 1,300 r.p.m.
Thus maximum engine torque is provided at low speeds without unnecessary power absorption by the blower at fast speeds. Fuel saved by this method is stated to be about a gallon in 125 miles.
Chassis construction is similar to that of the Tatra 137, except that the half
axles at the rear are suspended by leaf springs instead of torsion bars. Maximum wheelbase is 17 ft. 6 in., overall length 27 ft. 6 in., and width 7 ft. 4 in.
Among the new models from other Czechoslovak vehicle builders is the two-axled 5-ton Praga V3S, the American-style front-end treatment of which suggests an aim to sell in western markets. This has a more conventional frame and leaf springing, and is powered by a six-cylindered in-line oil engine of 7,412 c.c. developing 98 b.h.p.. at 2,100 r.p.m.
Four-seat Cab
The Skoda 706 RT with 9-ton payload rating has a four-seat cab over the engine. Seats are placed in two rows on each side of the power unit, which is a six-cylindered water-cooled oil engine of 11,781 c.c. rated at 170 b.h.p. at 1,850 r. p.m.
A similar chassis forms the basis of a new luxury bus produced by the Karosa.coachbuilding factory. Designed for long-distance touring, the Skoda 706 RTO seats 34 passengers and is said to have a maximum speed of 55 m.p.h. Special appointments include a radio and public-address system with six loudspeakers, and a pneumatic carrier-lift for the snare wheel, which weighs 300 lb. and is housed in a tail compartment.