Hiring Arrangement Intended to Preserve Goodwill
26th October 1956
Page 48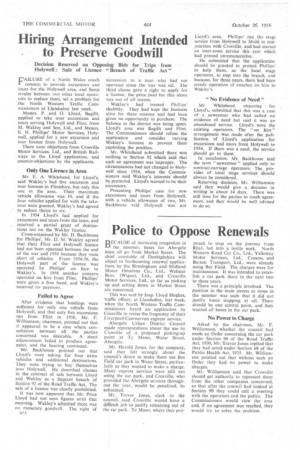 Page 48, 26th October 1956 —
Hiring Arrangement Intended to Preserve Goodwill
Close
Decision Reserved on Opposing Bids for Trips from Holywell : Sale of Licence "Breach of Traffic Act" FAILURE of a North Wales coach concern to provide excursions and tours for the .Holywell area, and fierce rivalry between two other local operators to replace them, set a problem for the North Western Traffic Cornmissioners at Llandudno last week.
Messrs. P. and 0. Lloyd, Bagillt, applied to take over excursions and tours serving Holywell and Flint, from M. Wakley and Son, Ltd., and Messrs. E. H. Phillips' Motor Services, Holywell, applied for a new excursion and tour licence from Holywell.
There were objections from Crosville Motor Services, Ltd., and British Railways to the Lloyd application, and counter-objections by the applicants.
Only One Licence in Area
Mr. E. A. Whitehead, for Lloyd's, said Wakley's had five excursion and tour licences in Flintshire, but only this one in the area. Their maximum vehicle allowance was 10, and if the four vehicles applied for with the takeover were granted, Wakley's had agreed to reduce theirs to six.
In 1954 Lloyd's had applied for excursions and tours from the town, and received a partial grant of destinations not on the Wakley licence.
Cross-examined by Mr. H. Backhouse for Phillips', Mr. D. M. Wakley agreed that their Flint and Holywell licence had not been operated between the end of the war and 1954 because they were short of vehicles: From 1954-56, the Holywell part of the licence was operated by Phillips' on hire to Wakley's. In 1956 another concern operated on hire from Flint, Phillips' were given a free hand, and Wakley's received no payment.
Failed to Agree
After evidence that loadings were sufficient for only one vehicle from Ilolywell, and that only five excursions ran from Flint in 1956, Mr. F. Williamson, chairman, pointed out that it appeared to be a case where consultation between all the parties concerned was desirable. A short adjournment failed to produce agreement, and the hearing continued.
Mr. Backhouse pointed out that Lloyd's were asking for four extra vehicles and additional destinations. They were trying to buy themselves into Holywell. He described clauses in the contract of sale between Lloyd and Wakley as a flagrant breach of Section 92 of the Road Traffic Act. The sale of a licence was clearly prohibited.
It was now apparent that Mr. Price Lloyd had not seen figures until that morning. Wakley's admitted there was no monetary goodwill. The right of a 1 4 succession to a man who had not operated since the war was nil. The third clause gave a right to apply for a licence; the price paid for this alone was out of all reason.
Wakley's had treated Phillips' shabbily. They had kept the business alive for three seasons and had been given no opportunity to purchase. The balance in the district was being upset. Lloyd's area was Bagillt and Flint. The Commissioners should refuse the application and consider varying Wakley's licences to prevent them exploiting the position.
Mr. Whitehead submitted there was nothing in Section 92 which said that such an agreement was improper. The circumstances had not changed in Holywell since 1954, when the Commissioners said Wakley's interests should be protected, Lloyd's wanted to be their successors.
Presenting Phillips' case for new excursions and tours from Holywell, with a vehicle allowance of two, Mr. Backhouse said Holywell was not Lloyd's area. Phillips' ran the stage service from Holywell to Mold in conjunction with Crosville, and had started an inter-town service this year which had proved unremunerative.
He submitted that the application should be granted to protect Phillips' to help them, as the local stage operators, to step into the breach, and because, for three years, there had been steady operation of coaches on hire to Wakley's.
"No Evidence of Need
Mr. Whitehead, objecting for Lloyd's, submitted that this was a case of a newcomer who had called no evidence of need but said it was an abandoned service. Lloyd's were the existing operators. The "on hire arrangement was made after the publication of Lloyd's application for excursions and tours from Holywell in 1954. If there was a need, the service should go to them.
In conclusion, Mr. Backhouse said the term " newcomer " applied only to contract-carriage operators, The provider of local stage services should always be considered.
Reserving decision, Mr. Williamson said they would give a decision in writing in about J4 days. There was still time for the parties to reach agreement, and they would he well advised to do so.