Legislation Should Help
26th October 1956
Page 47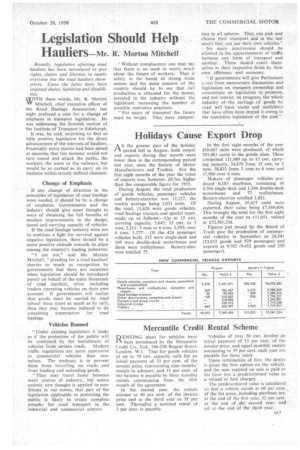 Page 47, 26th October 1956 —
Legislation Should Help
Close
Hauliers—Mr. R. Morton Mitchell
Broadly, legislation affecting road hauliers has been introduced to give rights, claims and liberties to nearly everyone but the road hauliers themselves. Upon the latter have been imposed duties, liabilities and disabilities.
w/ITH these words, Mr. R. Morton VV Mitchell, chief executive officer of the Road Haulage Association, last night prefaced a case for .a change of emphasis in transport legislation. He was addressing the Scottish section of the Institute of Transport in Edinburgh.
it was, he said, surprising to find so little positive, legislation for the direct advancement of the interests of hauliers. Practically every statute had been aimed at ensuring that this monster would not turn round and attack the public, the workers, the users or the railways, but would be so curbed as to carry on its business within strictly defined channels.
Change of Emphasis
If any change of direction in the principles of legislation of road haulage were needed, it should be by a change of emphasis. Governments and the industry should give more thought to ways of obtaining the full benefits of modern improvements in the design, speed and carrying capacity of vehicles.
If the road haulage industry were not to continue a fight for survival against negative legislation, there should be a more positive attitude towards its place among the country's leading industries.
"1 am not," said Mr. Morton Mitchell, " pleading for a road hauliers' charter so much as recognition by governments that there are occasions when legislation should be introduced purely on behalf of the many thousands of road hauliers, often including traders operating vehicles on their own account. If governments will realize that goods must be carried by road (about three times as much as by rail), then they may become induced to do something constructive for road haulage.
Vehicles Banned
"Under existing legislation it looks as if the protection of the public will be continued by the banishment of vehicles from certain roads. Modern traffic regulations are more oppressive to commercial vehicles than ever before. The tendency is to prevent them from travelling on roads and from loading and unloading goods.
"They may travel faster between main centres of industry, but unless entirely new thought is applied to conditions in our towns, that part of the legislation applicable to protecting the public is likely to create complete atrophy for road transport in the industrial and commercial centres. " Without complacency one may say that there is no need to worry much about the future of workers. That is safely in the hands of strong trade unions and the main concern of the country should be to see that full production is obtained for the money invested in the industry without the legislature increasing the number of possible restrictive practices.
" For users of transport the future must be bright. They have competi tion in all spheres. They can pick and choose their transport and in the last resort they can use their own vehicles." , No more interference should be allowed in the apportionment of traffic between one form of transport and another. These should assert themselves in their respective fields by their own efficiency and economy.
"If governments will give Parliament a rest from unnecessary discussions and legislation on transport ownership and concentrate on legislation to promote, and not restrict, its progress, the whole industry of 'the carriage of goods by road will have status and usefulness that have often been denied it owing to the restrictive legislation of the past."