"Jekyll and Hyde Operator Sued
26th October 1956
Page 41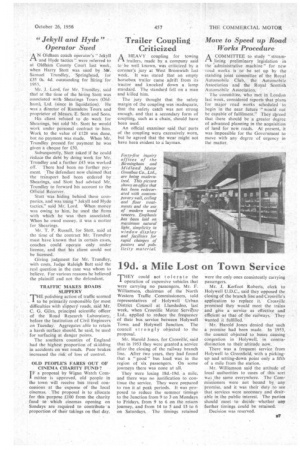 Page 41, 26th October 1956 —
"Jekyll and Hyde Operator Sued
Close
Keywords :
AN Oldham coach operator's "Jekyll and Hyde tactics" were referred to at Oldham County Court last week, when Harry Stott was sued by Samuel Trundley, Springhead, for £35 Os. 4d. outstanding for hiring for 1955.
Mr. J. Lord, for Mr. Trundley, said that at the time of the hiring Stott was associated with Shearings Tours (Oldham), Ltd. (since in liquidation). He was a director of Ramsdens Tours and proprietor of Messrs. E. Stott and Sons.
His client refused to do work for Shearings, but told Mr. Stott he would work under personal contract to him. Work to the value of £128 was done, but no payment was made. When Mr. Trundley pressed for payment he was given a cheque for £50.
Subsequently, Stott asked if he could reduce the debt by doing work for Mr. Trundley and a further £43 was worked off. There had been, no further payment. The defendant now claimed that the transport had been ordered by Shearings, and Stott had advised Mr. Trundley to forward his account to the Official Receiver.
Stott was hiding behind these Qo mpanics, and was using "Jekyll and Hyde tactics," said Mr. Lord. When money was owing to him, he used the firms with which he was then associated. When he owed money, it was a matter for Shearings.
Mr. T. P. Russell, for Stott, said at the time of the contract Mr. Trundley must have known that in certain cases, coaches could operate only under licence, and that his client could not be licensed.
Giving judgment for Mr. Trundley, with costs, Judge Raleigh Batt said the real question in the case was whom to believe. For various reasons he believed the plaintiff and not the defendant.
TRAFFIC MAKES ROADS SLIPPERY
THE polishing action of traffic seemed
_ to be primarily responsible for most difficulties with slipper), roads, said Mr. C. G. Giles, principal scientific officer of the Road Research Laboratory, before the Institution of Civil Engineers on Tuesday. Aggregates able to retain a harsh surface should, he said, be used for surfacing at danger points.
The southern counties of England had the highest proportion of skidding in accidents on wet roads. Poor brakes increased the risk of loss of control.
OLD PEOPLE'S FARES OUT OF CINEMA CHARITY FUND? IF a proposal by Wigan Watch Cornmittee is approved, old people in the town will receive bus travel concessions at the expense of the local cinemas. The proposal is to allocate for this purpose £100 from the charity fund to which cinemas opening on Sundays are required to contribute -a proportion of their takings on that day.
Trailer Coupling Criticized
AHEAVY coupling for towing trailers, made by a company said to be well known, was criticized by a coroner's jury at West Bromwich last week. It was stated that an empty horsebox trailer came adrift from its tractor and knocked down a lamp standard. The standard fell on a man and killed him.
The jury thought that the safety margin of the coupling was inadequate, that the safety catch was not strong enough, and that a secondary form of coupling, such as a chain, should have been used.
An official examiner said that parts of the coupling were excessively worn, but he agreed that the wear might not have been evident to a layman.
Move to Speed up Road Works Procedure
A
rA COMMITTEE to study "stream
lining preliminary legislation in the administrative machine" for new Toad works is to' be set up by the standing joint committee of the Royal Automobile Club, the Automobile Association and the Royal Scottish Automobile Association.
The committee, who met in London Iasi. week, considered reports that plans for major road works scheduled to begin in the near future "would not be capable of fulfilment." They areed that there should be a greater degree of advanced planning in the acquisition of land for new roads. At present, it was impossible for the Government to move with any degree of urgency in the matter.