19d. a Mile Lost
26th October 1956
Page 41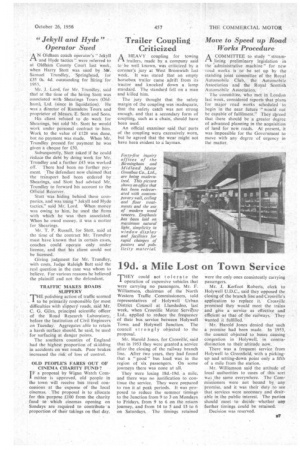 Page 41, 26th October 1956 —
19d. a Mile Lost
Close
Keywords :
on Town Service
THEY could Hot tolerate the I operation of expensive vehicles that were carrying no passengers, Mr. F. Williamson, chairman of the North Western Traffic Commissioners, told representatives of Holywell Urban District Council at Llandudno, last week, when Crosville Motor Servi!est, Ltd., applied to reduce the frequency of their bus ,service between Holywell Town and Holywell Junction. The council strongly objected to the proposal.
Mr. Harold Jones, for Crosvillec said that in 1953 they were granted a service after the closing of the railway branch line. After two years, they had found that a "good" bus load was in the region of six passengers. On some journeys there was none at all.
They were losing I8d.-19d. a mile, and there was no justification to continue the service. They were prepared to run it at peak periods. It was proposed to reduce the summer timings to the Junction from 9 to 3 on Mondays to Fridays, from 9 to 6 on the return journey, and from 14 to 5 and 13 to 6 on Saturdays. The timings retained were the only ones consistently carrying passengers.
Mr. J. Kerfoot Roberts, clerk to Holywell U.D.C., said they opposed the closing of the branch line and CroSville's application to replace it. Crosville promised they would meet the trains and give a service as effective and efficient as that of the railways. They Wanted it fulfilled.
Mr. Harold Jones denied that such a promise had been made. In 1953, the council objected to buses causing congestion in Holywell, in contradistinction to their attitude now.
There was a frequent service from Holywell to Greenfield, with a pickingup and setting-down point only a fifth of a mile from the station.
Mr. Williamson said the attitude of local authorities to cases of this sort was the same everywhere. The Commissioners were not bound by any promise, and it was their duty to see that services were necessary and desirable in the public interest. The parties should meet to decide whether any further timings could be retained.
Decision was reserved.