Swansea Bus TakeOver : No Decision JO decision on whether
26th October 1956
Page 40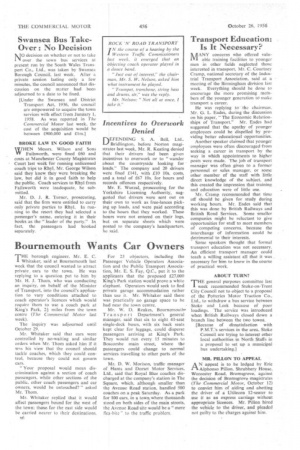 Page 40, 26th October 1956 —
Swansea Bus TakeOver : No Decision JO decision on whether
Close
Keywords :
or not to take ill over the town bus services at present run by the South Wales Transport Co., Ltd., was taken by Swansea Borough Council, last week. After a private session lasting only a few minutes, the council a,nnounced that discussion on the matter bad been adjourned to a date to be fixed. [Under the Swansea and District Transport Act, 1936, the council are empowered to acquire the town services with effect from January 1, 1958. As was reported in The Commercial Motor last week. the cost of the acquisition would be between £900.000 and -Elm.]
BROKE LAW IN GOOD FAITH
WHEN Messrs. Wilson and Sons Failsworth, were fined £60 and costs at Manchester County Magistrates Court last week Tor running unlicensed coach trips to Rhyl, Mr. George Wilson said they knew they were breaking the law, but did it in good faith to help the public. Coach services to Rhyl from Failsworth were inadequate. he submitted. Mr. D. J. R. Turner, prosecuting. said that the firm were entitled to carry only private parties to Rhyl. In running to the resort they had selected a passenger's name, entering it in their books as the " leader of the party." In fact, the passengers had booked separately.
incentives to Overwork Denied
DEFENDING S. A. Bell, Ltd.. Bridlington, before Norton magistrates last week, Mr. R. Keating denied that their drivers had been given incentives to overwork or to "wander about the countryside looking for loads." The company and 20 drivers were fined £141, with £10 10s. costs, and a total of £67 10s, for hours and records offences respectively. Mr. E. Wurzal, prosecuting for the Yorkshire Licensing Authority, suggested that drivers were sent out on their own to work as free-lances picking up loads, and were paid according to the hours that they worked. These hours were not entered on their logs, but on separate sheets which were posted to the company's headquarters, he said.
• Transport Education: Is It Necessary?
MANY concerns who offered valuable training facilities to younger men in other fields neglected th:ose interested in transport, Mr. C. Courtney Cramp, national secretary of the Industrial Transport Association, said at a meeting of the Birmingham division last week. Everything should be done to encourage the more promising menuhers of the younger generation ta make transport a career. H e was replying to the chairman, Mr. G. L. Fades, during the discussion on his paper, "The Economic Relationships of Transport." Mr. Fades had the apathy suggested that thy of younger employees could be .dispelled by providing better educational -opportunities. Another speaker claimed that younger employees were often discouraged from seeking a career in transport by the way in which appointments to higher posts were made. The job of transport manager was often given to .a former personnel or sales manager, or some other member of the staff with little direct knowledge of the subject, and this created the impression that training and education were of little use. Mr. Cramp recommended that time off Should be given for study during working -hours. Mr. Eades said that this was .done by British Railways and British Road Services. Some smaller companies might be reluctant to give opportunities for staff to meet -members of competing concerns, because the interchange of information could he detrimental to their interests. Some speakers thought that formal transport education was not necessary. An efficient transport manager could teach a willing assistant all that it was necessary for him to know in the course
of practical work. • ABOUT TURN?
THE general purposes committee last week recommended Stoke-on-Trent City Council not to object to a proposal of the Potteries Motor Traction Co., Ltd., to withdraw a bus service between Stoke and Leek because of poor loadings. The service was introduced when British Railways closed down a branch line between the two towns.
[Because of dissatisfaction with
P.M.T.'s services in the area, Stoke Council are trying to interest other local authorities in North Staffs in a proposal to set up a municipal bus u ndertak ing.]
M. PILLON TO APPEAL
A N appeal is to be lodged by Eric rt.A.:trihonso Pillon. Shrubbery House, Worcester Road, Bromsgrove, against the decision of Brornsgrove -magistrates (The .Commercial Motor, :October 12) to convict him of aiding and abetting the driver of -a Uri-leo:in 12-seater to use it as an express -carriage •without appropriate 'licences. Mr. Pillon hired the vehicle to .the driver, :and pleaded not guilty to the charges against him.