Bournemouth Wants Car Owners
26th October 1956
Page 40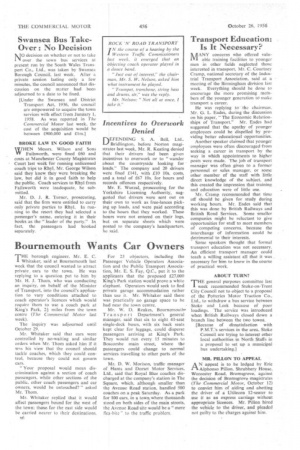 Page 40, 26th October 1956 —
Bournemouth Wants Car Owners
Close
Keywords :
THE borough engineer, Mr. E. C. Whitaker, said at Bournemouth last week that the council wanted to attract private, cars to the town, He was replying to a question put to him by Mr. H. J. Thom, who was conducting an inquiry, on behalf of the Minister of Transport, into the council's application to vary conditions attached to coach operator's licences which would require them to use a coach park at King's Park, 21, miles from the town centre (The Commercial Motor last week). The inquiry was adjourned until October 29. Mr. Whitaker said that cars were controlled by no-waiting and similar orders when Mr. Thom asked him if it WIS his view that the council should tackle coaches, which they could control, because they could not govern cars. "Your proposal would mean discrimination against a section of coach passengers, while other sections of the public, other coach passengers and car owners, would be untouched?" asked
Mr. Thom. .
Mr. Whitaker replied that it would affect passengers bound for the west of the town: thosefor the east side would be carried nearer to their destinations.
tt6
For 23 objectors, including the Passenger Vehicle Operators Association and the Public Transport Association, Mr. E. S. Fay, Q.C., put it to the applicants that the proposed £27.000 King's Park station would prove a white elephant. Operators would seek to find private garage accommodation rather than use it. Mr. Whitaker said there was practically no garage space to be had near the town centre. Mr. W. D. Reakes, Bournemouth* Trap s p o r t Department's general manager, said that six to eight 41-seat single-deck buses, with six back seats kept clear for luggage, could disperse passengers arriving at King's Park. They would run every 15 minutes to Boscambe main street, where the passengers could change to normal services travelling to other parts of the town. Mr. D. W. Morison, traffic manager of Hants and Dorset Motor Services, Ltd., said that Royal Blue coaches discharged at the company's station in The Square, which, although smaller than the Avenue Road station, handled 500 coaches on a peak Saturday. As a park for 100 cars, in a town.where thousands stood on both sides of the main streets, the Avenue Road site would be a "mere flea-bite to the traffic problem.