Grant Without Eviderfee of Need
26th October 1956
Page 39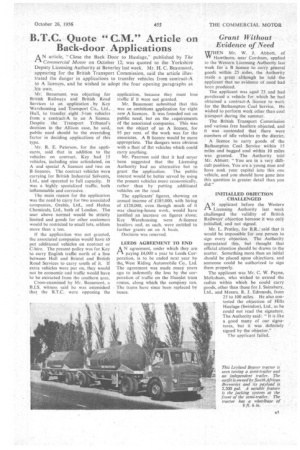 Page 39, 26th October 1956 —
Grant Without Eviderfee of Need
Close
"WHEN Mr. W. J. Abbott, of VV Hawthorn, near Corsham, applied to the Western Licensing Authority last week for a B licence to carry general goods within 25 miles, the Authority made a grant although he told the applicant that no evidence of need had been produced. .
The applicant was aged 23 and had purchased a vehicle for which he had obtained a contract-A licence to work for the Bathampton Coal Service. He wished to perform work other than coal transport during the summer.
The British Transport Commission and various free hauliers objected, and it was contended that there were numbers of idle vehicles in the district.
A licence to carry goodsof the Bathampton Coal Service within 15 miles and bagged coal within 10 miles was granted. The Authority told Mr, Abbott: "You are in a very difficult position. You are a young man and have sunk your capital into this one vehicle, and you should have gone into this question in greater detail than you did."
INITIALLED OBJECTION CHALLENGED
AN applicant before the Western Licensing Authority last week challenged the validity of British Railways' objection because it was only initialled, and not signed.
Mr. L. PratIey, for BR.,' said that it would be impossible for one person to sign every objection. The Authority appreciated this, but thought that official attention should be drawn to the matter. Something more than an initial should he placed upon objections, and someone could be authorized to sign them properly.
The applicant was Mr. C. W. Payne, Melksham, who wished to extend the radius within which he could carry goods, other than those for J. Sainsbury, Ltd.. and Messrs. R. J., Edmunds, from 25 to 100 miles. He also contested the objection of Hills Haulage (Swindon), Ltd.. as he could not read the signature. The Authority said " It is like a good many of our signatures, but it was definitely signed by the objector."
The applicant failed.