Ratepayers Object to Extension on Routes
26th October 1956
Page 38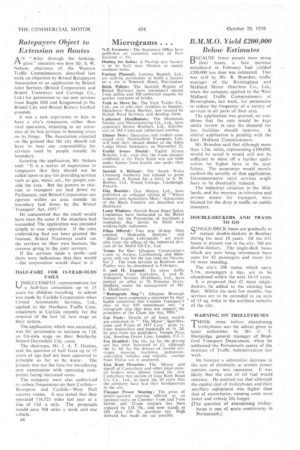 Page 38, 26th October 1956 —
Ratepayers Object to Extension on Routes
Close
AN" Alice through the lookingglass "situation was how Mr. S. W. Nelson, chairman of the Western
Traffic Commissioners, described last week an objection by Bristol Ratepayers Association to an application by Bristol Joint Services (Bristol Corporation and Bristol Tramways and Carriage Co., Ltd) for permission to run new services from Staple Hill and Kingswood to the Bristol City and Bristol Rovers football grounds.
It was a new experience to him to have a city's ratepayers, rather than rival operators, objecting to an extension of its bus services to housing areas on its fringe. The Association objected on the ground that the city should not have to bear any responsibility for services used by people outside its boundary.
Granting the application, Mr. Nelson said: It is a matter of importance to ratepayers that they should not be called upon to pay for providing services such as gas, water, etc., for people outside the area. But the powers in relation to transport are laid down by Parliament, and Bristol Corporation can operate within an area outside its boundary laid down by the Bristol Transport Act, .1937."
He commented that the result would have been the sante if the objection had succeeded. The application was intended simply to ease operation. If the joint undertaking had not been granted the licences, Bristol Tramways could run the services on their own licences, the revenue going to the joint services.
If the services made a profit—and there were indications that they would —the corporation would share in it.
HALF-FARE FOR I5-YEAR-OLDS FAILS
UINSUCCESSFUL representations for 1-1 a half-fare concession up to 15 years for children travelling to school was made by Carlisle Corporation when United Automobile Services, Ltd., applied to the Northern . Traffic Commissioners at Carlisle recently for the removal of the last Id. fare stage on their system.
The application, which was successful, was for permission to increase to 11d, an 0.6-mile stage on their BotcherbY School-Durranhill City route.
The chairman, Mr. J. A. T. Hanlon, said the question of half fares up to 15 years of age had not been approved in
principle so far as he knew. The present was not the time for introducing new concessions with operating companies facing increased costs.
The company were also authorized to reduce frequencies on their Carlisle— Brampton and Carlisle—West Hall country routes. It was stated that they operated 116,523 miles last year at a loss of -11d. a mile. The proposals would save 568 miles a week and one vehicle.