Bowmaker Introduce New Rental Plan
26th October 1956
Page 37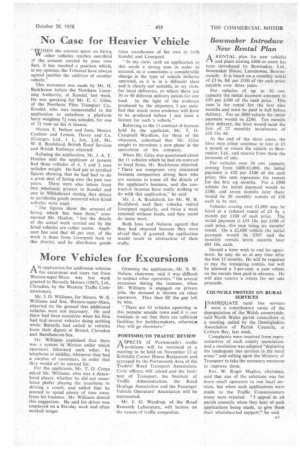 Page 37, 26th October 1956 —
Bowmaker Introduce New Rental Plan
Close
ARENTAL plan for new vehicles and plant costing £400 or more has been introduced by Bowmaker, Ltd., Bowmaker House, Lansdowne, Bournemouth. It is based on a monthly rental of £3 6s. 8d. per 000 of the cash price, payable over three years.
For vehicles of up to 30 cwt. capacity the initial payment amounts to £30 per £100 of the cash price. This sum is the rental for the first nine months and must be paid in full before delivery. For an £800 vehicle the initial payment would be £240. Ten months after delivery, the hirer would incur the first of 27 monthly instalments of £26 13s. 4d.
Al the end of the three years, the hirer may either continue to rent at £1 a month or return the vehicle to Bowmaker, Ltd., and receive from them the proceeds of sale.
For vehicles over 30 cwt. capacity costing from £400.11,000, the initial payment is £20 per £100 of the cash price; this sum represents the rentals for the first six months. For a £900 vehicle the initial paymenf would be £180, and seven months later there would be 30 monthly rentals of £30 each to be met.
Vehicles costing over £1,000 may be hired at a reduced rental of £3 5s. a month per £100 of cash price. The initial payment is £19 10s. per £100 of cash price, this sum being six months' rental. On a £2,600 vehicle the initial payment would be £507 and the monthly rentals-. seven months later £84 10s. each.
Should a hirer wish to end his agreement. he may do so at any time after the first 12 months, He will be required to pay the remaining rentals, but will be allowed a 5-per-cent, a year rebate on the rentals then paid in advance. He will also receive a rebate for net sale proceeds.
COUNCILS PROTEST ON RURAL SERVICES INADEQUATE rural bus services I were a contributory cause of the depopulation of the Welsh countryside. said North Wales parish councillors at a meeting called by the Denbighshire Association of Parish Councils, at Colwyn Bay, last week.'
Complaints were received from representatives of each county association, and a resolution was adopted "deploring the inadequate bus services in the rural areas" and calling upon the Ministry of Transport to take the necessary measures to improve them.
Rev. W. Roger Hughes, chairman, said that one of the solutions was for more small operators to run local services, but when such applications were made to the Traffic Commissioners many were rejected. "I! appeal to all parish councils, when they hear of such applications being made, to give them their wholehearted support," he said.