Men in the News MR. A. S. HEGGIE has become
26th October 1956
Page 36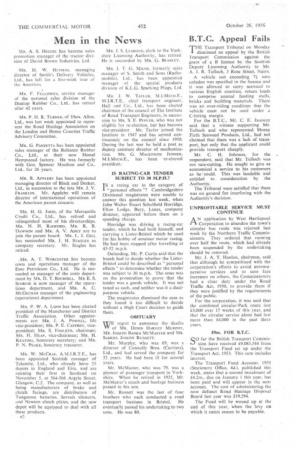 Page 36, 26th October 1956 —
Men in the News MR. A. S. HEGGIE has become
Close
sales promotion manager of the tractor division of David Brown Industries, Ltd.
MR. H. W. HEYMAN, managing director of Smith's Delivery Vehicles, Ltd., has left for a five-week tour of the Americas.
MR. F. FELLOWES, service manager of the national sales division of the Dunlop Rubber Co.. Ltd., has retired after 42 years.
MR. P. H. R. TURNER, of Thos. Allen, Ltd, was last week appointed to represent the Road Haulage Association on the London and Home Counties Traffic Advisory Committee.
Ma. G. PANZETTA has been appointed sales manager of the Reliance Rubber Co., Ltd,, at their new Hemel Hempstead factory. He was formerly with Geo. Spencer Moulton and Co.. Ltd.. for 26 years.
MR. R. APPLEBY has been appointed managing director of Black and Decker, Ltd., in succession to the late ?Via. J. V. FRANKLIN. Mr. Appleby will remain director of international operations of the American parent concern.
MR. H. G. Jurna, of the Mercantile Credit Co., Ltd., has retired and relinquished most of his directorships. MR. N. H. Rsoroan, MR. R. B. DAWSON and MR. A. V. ADEY are to join the parent board. MR. I.. J. GILL has succeeded MR. J. H. STAGLES as company secretary. Mr. Stagles has retired.
MR. A. T. WORCESTER has become costs and operations manager of the Esso Petroleum Co., Ltd. He is succeeded as manager of the costs department by MR. D. T. BOURHILL. MR E. S. SCORGIE is now manager of the operations department, and Ma. A. •C. MCGECHAN manager of the engineering (operations) department.
MR. P. W. A. LUNN has been elected president of the Manchester and District Traffic Association. Other appointments are: MR. J. A. POWELL, life vice-president; MR. P. E. CAFFREY, vicepresident; MR. S. FOULKES, chairman; MR. H. HEAP, vice-chairman; MR. H. KEATING, honorary secretary; and MR. P. N. PEE, honorary treasurer.
MR. W. MCCRAE, A.VLI.R.T.E., has been appointed Scottish manager of Telamite, Ltd., who already have 25 depots in England and Eire, and are opening their first in Scotland on November 5, at 564-566 Argyle Street, Glasgow, C.2. The company, as well as being manufacturers of brake and clutch facings, are distributors of Tungstone batteries. Servais silencers, and Newton clutch plates, and the new depot will be equipped to deal with all these products.
n2
MR. J. S. LLAROYD, clerk to the Yorkshire Licensing Authority, has retired. He is succeeded by MR. a BEASLEY.
MR. I. T. G. MILNE. formerly sales manager of S. Smith and Sons (Radiomobile), Ltd., has been appointed manager of the special products division of K.L.G. Sparking Plugs, Ltd.
MR. J. W. TAYLER, M.1.R.T.E., chief transport engineer, Hall and Co:, Ltd., has been elected chairman of the council of The Institute of Road Transport Engineers, in succession to Mx. S. E. PEPI.ER, who was not eligible for re-election, but has become
vice-president Mr. Tayler joined the Institute in 1947 and has served continuously on the council since 1950. During the last war he held a post as deputy assistant director of mechanization. MR. G. MACKENZIE JUNNER. /VI.I.Mrcti.E., has been re-elected president.
IS RACING-CAR TENDER SUBJECT TO 30 M.P.H.?
IS a racing car in the category of 1" personal effects "? Cambridgeshire Divisional magistrates were unable to answer this question last week, when John Walter Stuart Scholfield Horridge, Elton Lodge, Bury, Lanes, company director, appeared before them on a speeding charge.
Hot-ridge was driving a racing-car tender, which he had built himself, and carrying a Lister-Bristol which he used for his hobby of amateur motor racing. He had been stopped after travelling at 45-52 m.p.h.
Defending, Mr. P. Curtis said that the bench had to decide whether the ListerBristol could be described as "personal effects" to determine whether the tender was subject to 30 m.p.h. The onus was on the prosecution to prove that the tender was a goods vehicle. It was not taxed as such, and neither was it a dualpurpose vehicle.
The magistrates dismissed the case as they found it too difficult to decide without a High Court decision to guide them.
OBITUARY
WE regret to announce the deaths VY Of MR. DENTS HARVEY MURPHY, MR. JOSEPH BANKS MCMASTER and MR. SAMUEL JOSEPH RUSSE1T.
Mr. Murphy, who was 69, was a director of Connolly Bros. (Corners), Ltd., and had served the company for 52 years. He had been ill for several years.
Mr. McMaster, who was 79, was a pioneer of passenger transport in Yorkshire. When he retired in 1935, Mr. MeNfaster's coach and haulage business passed to his son.
Mr. Russett was the last of four brothers who each conducted a road transport business in Bristol. He eventually passed his undertaking to two sons. He was 80.
Tags
People
:
J. H. STAGLES
,
G. PANZETTA
,
JOSEPH BANKS MCMASTER
,
H. KEATING
,
A. V. ADEY
,
D. T. BOURHILL
,
G. MACKENZIE JUNNER
,
Russett
,
J. A. POWELL
,
H. W. HEYMAN
,
P. N. PEE
,
DENTS HARVEY MURPHY
,
P. Curtis
,
H. HEAP
,
J. S. LLAROYD
,
P. E. CAFFREY
,
R. B. DAWSON
,
SAMUEL JOSEPH
,
W. MCCRAE
,
N. H. Rsoroan
,
H. G. Jurna
,
A. T. WORCESTER
,
E. S. SCORGIE
,
F. FELLOWES
,
R. APPLEBY
,
S. FOULKES
,
J. W. TAYLER