B.T.C. Appeal Fails
26th October 1956
Page 36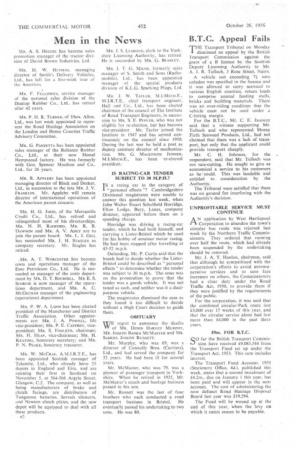 Page 36, 26th October 1956 —
B.T.C. Appeal Fails
Close
THE Transport Tribunal on Monday I dismissed an appeal by the British Transport Commission against the grant of a B licence by the Scottish Deputy Licensing . Authority to Mr. A. J. R. Tulloch, 3 Rose Street, Nairn.
A vehicle not exceeding 71 tons unladen was specified in the licence and it was allowed to carry seaweed to various English counties, return loads to comprise animal feeding stuffs, bricks and building materials. There was an over-riding condition that the vehicle must not be used under a C-hiring margin.
For the B.T.C., Mr. C. E. Jauncey said that a witness supporting Mr. Tulloch and who represented Moray Firth Seaweed Products, Ltd., had not claimed that there was a lack of transport, but only that the applicant could provide transport cheaply.
Mr. C. H. Johnson, for the respondent, said that Mr. Tulloch was not rate-cutting. He sought to give as economical a service to his customers as he could. This was laudable and entitled to consideration by the Authority.
The Tribunal were satisfied that there was no ground for interfering with the Authority's decision.
UNPROFITABLE SERVICE MUST CONTINUE
AN application by West Hartlepool Corporation to abandon the town's circular bus route was rejected last week by the Northern Traffic Commissioners. They ordered that running over half the route, which had already been suspended by the undertaking should be restored.
Mr. J. A. T. Hanlon, chairman, said that although he sympathized with the • corporation's efforts to avoid unremunerative services and to save fare increases on others, the Commissioners had a clear duty under, the Road Traffic Act, 1930, to provide them if they were justified by the requirements of the public.
For the corporation, it was said that the combined circular-Park route lost £3,000 over 17 weeks of this year, and that the circular service alone had lost more than £4,000 in the past three years.
£9m. FOR B.T.C.
SOfar the British Transport Commission have received £9,083,544 from the Transport Fund set up under the Transport Act, 1953. This suns includes interest.
The Transport Fund Account, 1955 (Stationery Office, 4d.). published this week, states that a second instalment of 14.2m., due on January 1 this year, has been paid and will appear in the next account. The cost of administering the now defunct Road Haulage Disposal Board last year was £19,294.
The Fund will be wound up at the
• end of this year, when the levy on which it exists ceases to be payable.