B.T.C. Evidence Always Scanty ?
26th October 1956
Page 35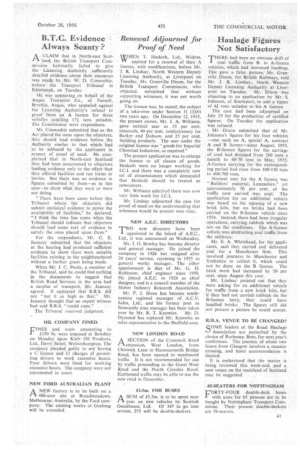 Page 35, 26th October 1956 —
B.T.C. Evidence Always Scanty ?
Close
I-1 A , CLAIM that in North-east Scotland, the British Transport Commission habitually failed to give the Licensing Authority sufficiently detailed evidence about their resources
• was made by Mr. W. D. Connochie. before the Transport Tribunal in Edinburgh, on Tuesday.
He was appearing on behalf of the Angus Transport Co., of Farnell. Brechin, Angus, who appealed against the Licensing Authority's refusal to grant them an A licence for three vehicles totalling 171 tons unladen. The Commission were respondents.
Mr. Connochie submitted that as the Act placed the onus upon the objectors, they should lead evidence before the Authority similar to that which had to he adduced by the applicants in respect of proof of need. He complained that in North-east Scotland they had been accustomed to objectors leading evidence only to the effect that they offered facilities and ran trains or lorries. But there was no evidence in figures submitted by them—as in this case—to show what they were or were not doing.
" There have been cases before this Tribunal where the objectors did submit statistical evidence to prove the availability of facilities," he declared. "I think the time has come when the Tribunal should indicate that objectors should lead some sort of evidence to satisfy the onus placed upon them."
For the respondents, Mr. C. E. Janney submitted that the objectors at the hearing had produced sufficient evidence to show there were suitable facilities existing in the neighbourhood without a further grant being made.
When Mr. J. C. Poole, a member of the Tribunal, said he could find nothing in the documents to suggest that British Road Services in the area had a surplus of transport, Mr. Jauncey agreed. It appeared that B.R.S. did not "put it as high as that." Mr. Jauncey thought that an expert witness had said B.R.S. "could cope."
The Tribunal reserved judgment.
OIL COMPANY FINED
VINES and costs amounting to
£199 9s, were imposed at Bewdley on Monday upon Kieft Oil Products, Ltd., Derry Street, Wolverhampton. The company pleaded guilty to not having a C licence and 11 charges of permitting drivers to work excessive hours. Four drivers were fined for working excessive hours. The company were not represented in court.
NEW FORD AUSTRALIAN PLANT
(-1 A NEW factory is to be built on a 400-acre site at Broadmeadows, Melbourne, Australia, by the Ford company. :The existing works at Geelong will he extended.
Renewal Adjourned for • Proof of Need
WHEN T. Hesketh, Ltd., Widnes, applied for a renewal of their A licence, with modifications, before Mr. J. R. Lindsay, North Western Deputy Licensing Authority, at Liverpool on Tuesday, Mr. Granville Dixon, for the British Transport Commission, who objected, submitted that without supporting witnesses, it was not worth going on.
The licence was, he stated, the subject of a take-over under Section 11 (3)(b) two years ago. On December 12, 1955, the present owner, Mr. J. A. Williams. gave normal user as 35 per cent. removals, 40 per cent. confectionery for Barker and Dobson, and 25 per cent, building products. The user under the original licence was "goods for Imperial Chemical Industries, as required."
The present application was to enlarge the licence to all classes .of goods. Hesketh were no longer working for I.C.I. and there was a completely new set of circumstances which demanded that Hesketh should be treated as newcomer's.
Mr. Williams admitted there was now very little work for • Mr. Lindsay adjourned the case for proof of need on the understanding that witnesses would be present next time.
NEW A.E.C. DIRECTORS
r0 new directors have been appointed to the board of A.E.C., Ltd., it was announced on Wednesday.
Mr. J. 0, Bowley has become director and general manager. He joined the company in 1926 but resigned after 24 years' service, rejoining in 1955 as general works manager, The other appointment is that of Mr. G. D. Robinson, chief engineer since 1950. He joined A.E.C. in 1928 as chief designer, and is a council member of the Motor Industry Research Association.
Mr. F. J. Sloan has become southeastern regional manager of A.C.V. Sales, Ltd., and his former post as Newcastle area manager has been taken over by Mr. R. T. Knowles. Mr. D. Dymond has replaced Mr. Knowles as sales representative in the Sheffield area.
NEW LONDON ROAD
A SECTION of the Cromwell Road r-1 extension, West London, from Chiswick Lane to Hammersmith Bridge Road, has been opened to westbound traffic. It is not recommended for use by traffic proceeding to the Great West Road and the North Circular Road. Eastbound traffic may be able to use the new road in December.
£1.5m: FOR BUSES
ASUM of £1.5m. is to be spent next year on new vehicles by Scottish Omnibuses, Ltd. Of 347 to go into service, 255 will be double-deckers.
HaulageFigures Not Satisfactory
THERE had been an obvious shift of I coal traffic from Bto A-licence vehicles, which had increased loadings. This gave a false. picture, Mr. Granville Dixon. for British Railways, told Mr. J. R. Lindsay, North Western' Deputy Licensing Authority at Liverpool on Tuesday. Mr. Dixon was objecting to an application by Mr. S. Johnson, of Southport, to add .a tipper of 41 tons unladen to his A licence.
The case had been adjourned on July 25 for the production of certified figures. On Tuesday the application was refused.
• Mr. Dixon submitted that of Mr. Johnson's figures for his four vehicles —one each on A, special A, contract A and B licence—since August, 1953, the B-licence figures for the carriage of coal had dropped from 260 tons a month to 60-70 tons in May, 1955. A-licence carrying for the corresponding period had risen from 100-150 tons to 600-700 tons. .
Normal user for the A licence was "Builders' material, Lancashire," yet approximately 50 per cent. of the traffic now carried was coal. The application for an additional vehicle was based on the opening of a new brick kiln, but no bricks had been carried on the B-licence vehicle since 1954. Instead, there had been irregular operations, carrying rubbish which was not on the conditions. The A-licence vehicle was abstracting coal traffic from the railways.
Mr. E. A. Whitehead, for the applicants, said they carried and delivered coal for a Manchester firm. This involved journeys to Manchester and Yorkshire to collect it, which could not be done on the B licence. The brick work had increased by 50 per cent. since August this year.
Mr. Lindsay pointed out that they were asking for an additional vehicle for traffic from a new brick kiln, but if they had not carried rubbish On the B-licence lorry, they could have handled bricks. The figures still did not present a picture he could accept.
R.H.A. VENUE TO BE CHANGED?
ROME leaders of the Road Haulage Association are perturbed by the choice of Rothesay, Bute, for next year's conference. The journey of about two hours from Glasgow involves a steamer crossing, and hotel accommodation is limited.
It is understood that the matter is being reviewed this week-end, and a new venue on the mainland of Scotland may be suggested.
65-SEATERS FOR NOTTINGHAM
FORTY-FOUR double-deck • buses with seats for 65 persons are to be bought by Nottingham Transport Committee. Their present double-deckers arc 56-swers.
Tags
People
:
J. R. Lindsay
,
S. Johnson
,
Jauncey
,
D. Dymond
,
G. D. Robinson
,
W. D. Connochie
,
C. E. Janney
,
E. A. Whitehead
,
R. T. Knowles
,
J. C. Poole
,
Granville Dixon
,
J. A. Williams
,
F. J. Sloan