INTERNATIONAL CONTEST: MANY POINTS AGREED
26th October 1956
Page 34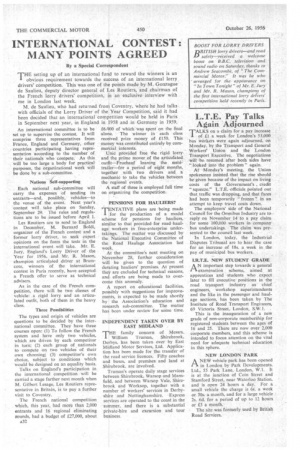 Page 34, 26th October 1956 —
INTERNATIONAL CONTEST: MANY POINTS AGREED
Close
Keywords :
By a Special Correspondent
THE setting up of an international fund to reward the winners is an obvious requirement towards the success of an international lorry drivers' competition. This was one of the points made by M. Gonzague de Saulieu, deputy director general of Les Routiers, and chairman of the French lorry drivers' competition, in an exclusive interview with me in London last week.
M. de Saulieu, who had returned from Coventry, where he had talks with officials of the Lorry Driver of the Year Competition, said it had been decided that an international competition would be held in Paris in September next year, in England in 1958 and in Germany in 1959.
An international committee is to be set up to supervise the contest. It will comprise three representatives from France, England and Germany, other countries participating having representation according to the number of their nationals who cornpete. As this will be too large a body for practical purposes, the organizational work will be done by a sub-committee.
Nations self -supporting
Each national sub-committee will carry the expenses of sending its entrants—and, posiibly, vehicles—to the venue of the event. Next year's contest will take place on Sunday, September 29. The rules and regulations are to be issued before April I.
Les Routiers are to send to England in December, M. Bernard Boldi, organizer of the French contest and a former lorry driver, to seek expert opinions on the form the tests in the international event will take. Mr. E. Jury, England's Lorry Driver of the Year for 1956, and Mr. R. Mason, champion articulated driver at Bramcote, winners of the international contest in Paris recently, have accepted a French offer to serve as technical • advisers.
As in the case of the French competition, there will be two classes of vehicle: _a rigid lorry and an articulated outfit, both of them in the heavy class.
Three Possibilities The types and origin of vehicles are questions to be .decided by the international committee. They have three courses open: (1) To follow the French system and have only two vehicles, which are driven by each competitor in turn; (2) each group of nationals to compete on two vehicles of their own choosing; (3) competitor's own choice, subject to conditions which would be designed on an equality basis.
Talks on England's participation in the international competition will be carried a stage farther next month when M. Gilbert Lesage, Les Routiers representative in Britain, is to pay a further visit to Coventry.
The French national competition which, this year, had more than 2,000 entrants and 16 regional eliminating rounds, had a budget of £27,000, about A32 £6.000 of which was spent on the final alone. The winner in each class received prize money of £150. This money was contributed entirely by commercial interests.
Unic provided free the rigid lorry, and the prime mover of the articulated outfit—Fruehauf loaning the semitrailer—for a period of eight months, together with two drivers and a mechanic to take the vehicles between the regional events.
A staff of three is employed full time on organizing the competition.
PENSIONS FOR HAULIERS?
TENTATIVE plans are being made I for the production of a model scheme for pensions for hauliers, similar to that provided for road haulage workers in free-enterprise undertakings. The matter was discussed by the National Executive Committee of the Road Haulage Association last week.
At the committee's next meeting on November 28, further consideration will be given to the question of derating hauliers' premises. At present they are excluded for technical reasons, and efforts are being made to overcome this anomaly.
A report on educational facilities, possibly with suggestions for improvements, is expected to be made shortly by the Association's education and research sub-committee. The matter has been under review for some time.
INDEPENDENT TAKEN OVER BY EAST MIDLAND
THE family concern of Messrs,. William Truman, Shirebrook, Derbys. has been taken over by East Midland Motor Services, Ltd. Application has been made for the transfer of the road service licences. Fifty coaches and buses, and premises and land at Shirebrook, are involved.
Truman's operate daily stage services between Shirebrook, Warsop and Mansfield, and between Warsop Vale, Shirebrook and Worksop, together with a nutnber of workers' services in Derbyshire and Nottinghamshire. Express services are operated to the coast in the summer, and there is a substantial private-hire and excursion and tour business.
L.T.E. Pay Talks Again 'Adjourned
TALKS on a claim for a pay increase I of £1 a week for London's 53,000 bus workers were again adjourned, on Monday, by the Transport and General Workers' Union and the London Transport Executive. The negotiations will be resumed after both sides have "looked into the problem" again.
At Monday's meeting, the Union spokesmen insisted that the rise should be given because of the impact on living costs of the Government's • credit "squeeze." L.T.E. ,officials pointed out that traffic was dropping, and that fares had been temporarily " frozen " in an attempt to keep travel costs down.
The employers' side of the National Council for the Omnibus Industry are to reply on November 14 to a pay claim for some 100,000 workers in company bus undertakings. The claim was presented to the council last week.
In London, today, the Industrial Disputes Tribunal are to hear the case for an increase -of. 18s. a week in the pay of municipal bus workers.
I.R.T.E. NEW STUDENT GRADE
AN important step towards a general examination scheme, aimed at apprentices and students who expect later to fill executive positions in the road transport industry as chief engineers, workshop superintendents and the like in the passenger and haulage sectionS, has been taken by The Institute of Road Transport Engineers, 69 Victoria Street, London, S.W.1.
This is the inauguration of a new grade of non-corporate membership for registered students between the ages of 16 and 25. There are now over 2,000 corporate members, and this scheme is intended to focus attention on the vital need for adequate technical education in this sphere.
NEW LONDON PARK
A NEW vehicle park has been opened in London by Park Developments, Ltd., 55 Park Lane, London, W.1. It is at the junction of Coin Street and Stamford Street, near Waterloo Station, and is open 24 hours a day. For a small vehicle the charge is 6s. a week or 30s. a month, and for a large vehicle 2s. 6d. for a period of up to 12 hours or £3 a month.
The site was formerly used by British Road Services.