One Hears
26th October 1956
Page 33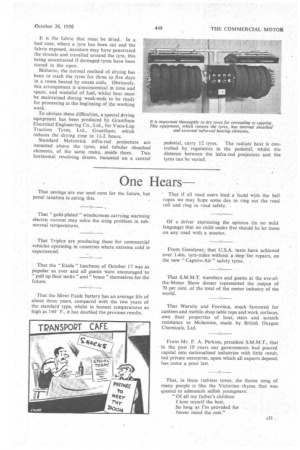 Page 33, 26th October 1956 —
One Hears
Close
Keywords :
That savings are our seed corn for the future, but penal taxation is eating this.
That " gold-plated " windscreens carrying warming electric current may solve the icing problem in subnormal temperatures.
That Triplex are producing these for commercial vehicles operating in countries where extreme cold isexperienced.
That the " Exide " luncheon of October 17 was as popular as ever and all guests were encouraged to "pull up their socks " and " brace "themselves for the future.
That the Silver Exide battery has an average life of about three years, compared with the two years of the standard type, whilst in bonnet temperatures as high as 140° F., it has doubled the previous results. ' That if all road users lend a hand with the bell ropes we may hope some day to ring out the road toll and ring in road safety.
Of a driver expressing the opinion (in no mild language) that no child under five should be let loose on any road with a scooter.
From Goodyear, that U.S.A. taxis have achieved over 1.4m. tyre-miles without a stop for repairs, on the new " Captive-Air " safety tyres.
That S.M.M.T. members and guests at the eve-ofthe-Motor Show dinner represented the output of 70 per cent. of the total of the motor industry of the world.
That Wareite and Formica, much favoured for canteen and mobile-shop table tops and work surfaces, owe their properties of heat, stain and scratch resistance to Melamine, made by British Oxygen Chemicals, Ltd.
From Mr. F. A. Perkins, president S.M.M.T., that in the past 10 years our governments had poured capital into nationalized industries with little result, but private enterprise, upon which all exports depend, has come a poor last.
That, in these ruthless times, the theme song of many people is like the Victorian • rhyme that was quoted to admonish selfish youngsters: "Of all my father's children I love myself the best, So long as I'm provided for Never mind the rest."