Passing Comments
26th October 1956
Page 32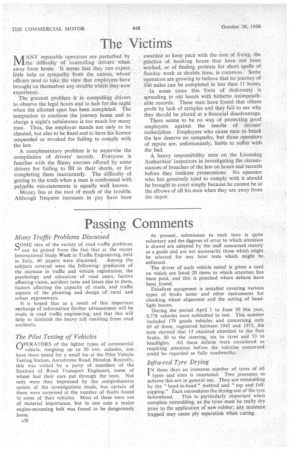 Page 33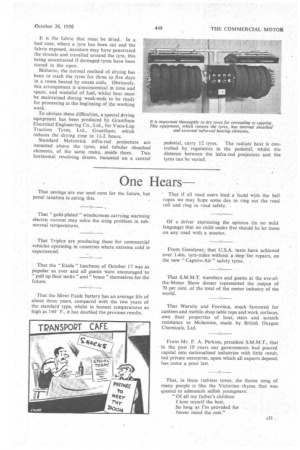 Page 32, 26th October 1956 —
Passing Comments
Close
Many Traffic Problems Discussed
qomE idea of the variety of road traffic problems 1-/ can be gained from the fact that at the recent International Study Week in Traffic Engineering, held
in Italy, 40 papers were discussed. Among the subjects covered were the following: prediction of the increase in traffic and vehicle registration, the psychology and education' of road users, factors affecting vision, accident rates and losses due to them, factors affecting the capacity of roads, and traffic aspects of the planning and design of rural and urban expressways.
It is hoped that as a result of this important exchange of information further advancement will be made in road traffic engineering, and that this will help to diminish the heavy toll resulting from road accidenis.
The Pilot Testing of Vehicles
0PERATORS of the lighter types of commercial
vehicle, weighing up to 30 Cwt. unladen, can have them tested for a small fee at the Pilot Vehicle Testing Station, Aerodrome Road. Hendon. Recently, this was visited by a party of members of the Institute of Road Transport Engineers, some of whom had their cars put through the tests. Not only were they impressed by the comprehensive nature of the investigations made, but certain of them were surprised at the number of faults found in some of their vehicles. Most of these were not of material importance, but in one case a major engine-mounting bolt was found to be dangerously loose.
At present, submission to such tests is quite voluntary and the degrees of error to which attention is drawri are adopted by the staff concerned mainly as a guide and are not necessarily those which might be selected for any later tests which might be enforced.
The driver of each vehicle tested is given a card on which are listed 20 items to which attention has been paid, and this is punched where defects have been found.
Excellent equipment is installed covering various types of brake tester and other instruments for checking wheel alignment and the setting of headlight beams.
During the period April 1 to June 30 this year, 6,778 vehicles were submitted to test. This number included 179 goods vehicles and concerning only 69 of these, registered between 1945 and 1953, the tests showed that 15 required attention to the foot brake, 30 to the steering, six to tyres and 53 to headlights. All these defects were considered as requiring attention before the vehicles concerned could be regarded as fully roadworthy.
Infra-red Tyre Drying
IN these days an immense number of tyres of all
types and sizes is renoVated. Two processes to achieve this are in general use. They are remoulding by the " bead-to-bead " _method and "top and fullcapping." Each necessitates the drying-out of the tyre beforehand. This is particularly important when complete remoulding, as the tyres must be really dry prior to the application of new rubber; any moisture trapped may cause ply separation when curing.
It is the fabric that must be dried. In a bad case, where a tyre has been cut and the fabric exposed, moisture may have penetrated the strands and travelled around the tyre, this being accentuated if damaged tyres have been stored in the open.
Hitherto, the normal method of drying has been to stack the tyres for three to five days in a room heated by steam coils. Obviously, this arrangement is uneconomical in time and space, and wasteful of fuel, whilst heat must be maintained during week-ends to be ready for processing at the beginning of the working week.
To obviate these difficulties, a special drying equipment has been produced by Grantham Electrical Engineering Co., Ltd., for Vacu-Lug Traction Tyres, Ltd., Grantham, which reduces the drying time to 11-2 hours.
Standard Metrovick infra-red projectors are mounted above the tyres, and tubular sheathed elements, of the same make, inside them. Two horizontal revolving drums, mounted on a central pedestal, carry 12 tyres. The radiant heat is con trolled by regulators in the pedestal, whilst the distance between the infra-red projectors and the tyres can be varied.