One Hears— Who dares to speak of 457 That it's the magneto that does it.
26th October 1916
Page 3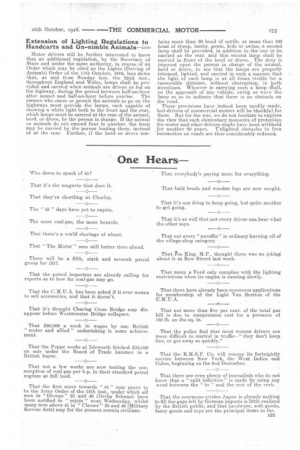 Page 3, 26th October 1916 —
One Hears— Who dares to speak of 457 That it's the magneto that does it.
Close
That they're chortling at Chorley.
The " 45 " days have yet to expire.
The more coal-gas, the more benzole.
That there's a world shortage of wheat.
That " The Motor " sees still better tires ahead.
There will be a fifth, sixth and seventh petrol group for 1917.
That the petrol importers are already calling for reports as to how far coal-gas may go.
That the allif.U.A. has been asked if it ever means to sell accessories, and that it doesn't.
That it's thought Charing Cross Bridge may disappear before Westminster Bridge collapses.
That £60,000 a week in wages by one British "motor and allied" undertaking is some achievement.
That the Poppe works at Isleworth fetched £35,000 on sale under the Board of Trade hammer to a British buyer.
That not a, few works are now testing the consumption of coal gas per h.p. in their standard petrol engines at full load.
That the first move towards " 45 " may prove to be the Army Order of the 12th inst., under which all men in " Groups " 23 and 46 (Derby Scheme) have been notified to " rejoin " next Wednesday, whilst many men above 41 in " Clas se s " 23 and 46 (Military Service Acts) may for the present remain civilians. That everybody's paying more for everything.
That bald heads and wooden legs are now sought.
That it's one thing to keep going, but quite another to get going.
That it's as well that not every driver can hear what the other says.
That not every "paraffin" is ordinary burning oil of the village-shop category.
That Yoe King, M.P., thought there was no joking about it at Bow Street last week That many a Ford only complies with the lighting restrictions when its engine is running slowly.
That there have already been numerous applications for membership of the Light Van Section of the C.M.U.A.
That not more than five per cent. of the total gas bill is due to compression cost for a. pressure of 150 lb. on the sq. in.
That the police find that most women drivers are more difficult to control in traffic—" they don't keep line, or get away so quickly."
That-the R.M.S.P. Co. will resume its fortnightly service between New York, the West Indies and Colon, beginning on the 2nd December.
That there are even plenty of journalists who do not know that a "split infinitive" is made by using any word between the " to " and the rest of the verb.
That the enormous strides Japan is already making to fill the gaps left by German imports is little realized by the British public, and that hardware, soft goods, fancy goods and toys are the principal items so far.