A New London Repair Works.
26th October 1916
Page 12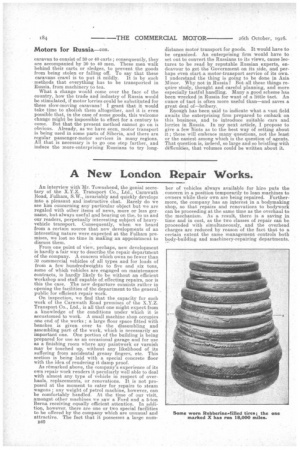 Page 12, 26th October 1916 —
A New London Repair Works.
Close
• An interview With Mr. Townshend, the genial secretary of the X.Y.Z. Transport Co., Ltd. Carnwath Road, .Fulham, S.W., invariably and quickly develops into a pleasant and instructive chat. Rarely do we see him concerning any particular object but we are regaled with other items of news, more or less gername, but always useful and bearing on the, to us and our readers, perpetually interesting subject of heavyvehicle transport. Consequently, when we heard from a certain source that new developments of an interesting nature were expected at the Fulham premises, we lost no time in making an appointment to discuss them.
From one point of view, perhaps, new development is hardly a fair way to describe the repair department of the company. A concern which owns no fewer than 30 commercial vehicles of all types and for loads of from a few hundredweights to five and six tons, some -of which vehicles are engaged on maintenance contracts, is hardly likely to be without an efficient workshop and staff capable of, effecting repairs, nor is this the case. The new departure consists rather in opening the facilities of the department to the general public for efficient repair work.
On inspection, we find that the capacity for such work of the Carnwath Road premises of the X.Y.Z. Transport Co., Ltd.. is all that one might expect from a knowledge of the conditions under which it is accustomed to work. A small machine shop occupies one end of the works ; a large floor space fitted with benches is given over to the dissembling and assembling part. of the work, which is necessarily an important one. One portion of the building is being prepared for use as an occasional garage and for use as a finishing room where any pamtwork or varnish may be touched up, without any likelihood of its suffering from accidental greasy fingers, etc. This section is being laid with a special concrete floor with the idea of rendering it damp proof. As remarked above, the company's experience of its own repair work renders it peculiarly well able to deal with almost any type of vehicle in respect of overhauls, replacements, or renovations. It is not proposed at the moment to cater for repairs to steam wagons ; any weight of petrol machine, however, can be comfortably handled. At the time of our visit, amongst other ma-chines we saw a Ford and a5-ton Berna receiving equally efficient attention. In addition however, there are one or two special facilities to 1:e offered by the company which are unusual and attractive. The fact that it possesses a large num
1340 ber of vehicles always available for hire puts the concern in a position temporarily to loan machines to owners while their own are being repaired. Furthermore, the company has an irkterest in a bodymaking shop, so that repairs and renovations to bodywork can be proceeding at the same time as the overhaul to the mechanism. As a result, there is a saving in time and in cost, as the two classes of repair can be proceeded with simultaneously, and the overhead charges are reduced by reason of the fact that to a certain extent the same management controls both body-building and machinery-repairing departments.