SHOP TALK
26th November 1987
Page 99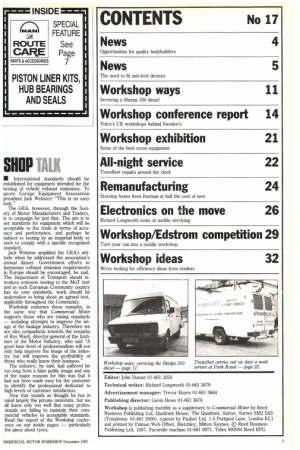 Page 99, 26th November 1987 —
SHOP TALK
Close
• International standards should be established for equipment intended for the testing of vehicle exhaust emissions. To quote Garage Equipment Association president Jack Webster: "This is no easy task."
The GEA, however, through the Society of Motor Manufacturers and Traders, is to campaign for just that. The aim is to set standards for equipment which will be acceptable to the trade in terms of accuracy and performance, and perhaps be subject to testing by an impartial body or seen to comply with a specific recognised standard.
Jack Webster amplified the GEA's attitude when he addressed the association's annual dinner, Government efforts to harmonise exhaust emission requirements in Europe should be encouraged, he said. The Department of Transport should introduce emission testing to the MoT test and as each European Community country has its own standards, work should be undertaken to bring about an agreed test, applicable throughout the Community.
Workshop endorses these remarks, in the same way that Commercial Motor supports those who are raising standards — including attempts to improve the image of the haulage industry. Therefore we are also sympathetic towards the remarks of Roy Ward, director-general of the Institute of the Motor Industry, who said "A good base level of professionalism will not only help improve the image of the industry but will improve the profitability of those who really know their business."
The industry, he said, had suffered far too long from a false public image and one of the major reasons for this was that it had not been made easy for the customer to identify the professional dedicated to high levels of customer satisfaction.
Now that sounds as thought he has in mind largely the private motorists, but we all know only too well that many professionals are failing to maintain their commercial vehicles to acceptable standards. Read the report of the Workshop conference on our inside pages — particularly the piece about tyres.