TURNING JAPANES
26th November 1987
Page 63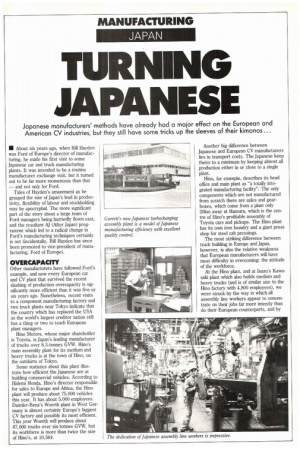 Page 64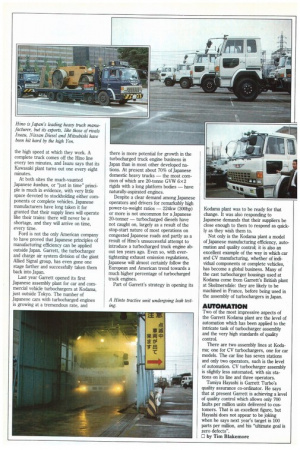 Page 63, 26th November 1987 —
TURNING JAPANES
Close
Japanese manufacturers' methods have already had a major effect on the European and American CV industries, but they still have some tricks up the sleeves of their kimonos...
MI About six years ago, when Bill Hayden was Ford of Europe's director of manufacturing, he made his first visit to some Japanese car and truck manufacturing plants. It was intended to be a routine manufacturer exchange visit, but it turned out to be far more momentous than that — and not only for Ford.
Tales of Hayden's amazement as he grasped the size of Japan's lead in productivity, flexibility of labour and stockholding may be apocryphal. The more significant part of the story about a large team of Ford managers being hurriedly flown east, and the resultant AJ (After Japan) programme which led to a radical change in Ford's manufacturing techniques certainly is not (incidentally, Bill Hayden has since been promoted to vice-president of manufacturing, Ford of Europe).
OVERCAPACITY
Other manufacturers have followed Ford's example, and now every European car and CV plant that survived the recent slashing of production overcapacity is significantly more efficient than it was five or six years ago. Nonetheless, recent visits to a component manufacturing factory and two truck plants near Tokyo indicate that the country which has replaced the USA as the world's largest creditor nation still has a thing or two to teach European plant nianagers.
Hino Motors, whose major shareholder is Toyota, is Japan's leading manufacturer of trucks over 8.5-tonnes GVW. Hino's main assembly plant for its medium and heavy trucks is at the town of Hino, on the outskirts of Tokyo.
Some statistics about this plant illustrate how efficient the Japanese are at building commercial vehicles. According to Hidemi Honda, Hino's director responsible for sales to Europe and Africa, the Hino plant will produce about 75,000 vehicles this year. It has about 5,000 employees. Daimler-Benz's Woerth plant in West Germany is almost certainly Europe's biggest CV factory and possibly its most efficient. This year Woerth will produce about 87,000 trucks over six-tonnes GVW, but its workforce is more than twice the size of Hino's, at 10,564. Another big difference between Japanese and European CV manufacturers lies in transport costs. The Japanese keep theirs to a minimum by keeping almost all production either in or close to a single Hino, for example, describes its head office and main plant as "a totally integrated manufacturing facility". The only components which are not manufactured from scratch there are axles and gearboxes, which come from a plant only 20km away at Hamura, which is the centre of Hino's profitable assembly of Toyota cars and pickups. The Hino plant has its own iron foundry and a giant press shop for steel cab pressings.
The most striking difference between truck building in Europe and Japan, however, is also the relative weakness that European manufacturers will have most difficulty in overcoming: the attitude of the workforce.
At the Hino plant, and at Isuzu's Kawasaki plant which also builds medium and heavy trucks (and is of similar size to the Hino factory with 4,800 employees), we were struck by the way in which all assembly line workers appear to concentrate on their jobs far more intently than do their European counterparts, and by the high speed at which they work. A complete truck comes off the Hino line every ten minutes, and Isuzu says that its Kawasaki plant turns out one every eight minutes.
At both sites the much-vaunted Japanese kanban, or "just in time" principle is much in evidence, with very little space devoted to stockholding either components or complete vehicles. Japanese manufacturers have long taken it for granted that their supply lines will operate like their trains: there will never be a shortage, and they will arrive on time, every time.
Ford is not the only American company to have proved that Japanese principles of manufacturing efficiency can be applied outside Japan. Garrett, the turbocharger and charge air system division of the giant Allied Signal group, has even gone one stage farther and successfully taken them back into Japan.
Last year Garrett opened its first Japanese assembly plant for car and commercial vehicle turbochargers at Kodama, just outside Tokyo. The number of Japanese cars with turbocharged engines is growing at a tremendous rate, and there is more potential for growth in the turbocharged truck engine business in Japan than in most other developed nations. At present about 70% of Japanese domestic heavy trucks — the most common of which are 20-tonne GVW 6x2 rigids with a long platform bodies — have naturally-aspirated engines.
Despite a clear demand among Japanese operators and drivers for remarkably high power-to-weight ratios — 224kw (300hp) or more is not uncommon for a Japanese 20-tonner — turbocharged diesels have not caught on, largely as a result of the stop-start nature of most operations on congested Japanese roads and partly as a result of Hino's unsuccessful attempt to introduce a turbocharged truck engine about ten years ago. Even so, with evertightening exhaust emission regulations, Japanese will almost certainly follow the European and American trend towards a much higher percentage of turbocharged truck engines.
Part of Garrett's strategy in opening its Kodama plant was to be ready for that change. It was also responding to Japanese demands that their suppliers be close enough to them to respond as quickly as they wish them to.
Not only is the Kodama plant a model of Japanese manufacturing efficiency, automation and quality control; it is also an excellent example of the way in which car and CV manufacturing, whether of individual components or complete vehicles, has become a global business. Many of the cast turbocharger housings used at Kodama come from Garrett's British plant at Skelmersdale: they are likely to be machined in France, before being used in the assembly of turbochargers in Japan.
AUTOMATION
Two of the most impressive aspects of the Garrett Kodama plant are the level of automation which has been applied to the intricate task of turbocharger assembly and the very high standards of quality control.
There are two assembly lines at Kodama; one for CV turbochargers, one for car models. The car line has seven stations and only two operators, such is the level of automation. CV turbocharger assembly is slightly less automated, with six stations on its line and three operators.
Tamiya Hayashi is Garrett Turbo's quality assurance co-ordinator. He says that at present Garrett is achieving a level of quality control which allows only 700 faults per million units delivered to customers. That is an excellent figure, but Hayashi does not appear to be joking when he says next year's target is 100 parts per million, and his "ultimate goal is zero defects".
El by Tim Blakemore