Brown pulls Bedford
26th November 1987
Page 6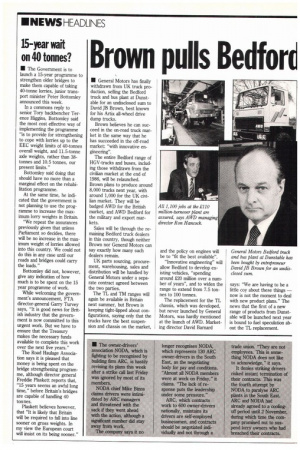 Page 6, 26th November 1987 —
Brown pulls Bedford
Close
• General Motors has finally withdrawn from UK truck production, selling the Bedford truck and bus plant at Dunstable for an undisclosed sum to David JB Brown, best known for his Artix all-wheel drive dump trucks.
Brown believes he can succeed in the on-road truck market in the same way that he has succeeded in the off-road market: "with innovative engineering".
The entire Bedford range of HGV-trucks and buses, including those withdrawn from the civilian market at the end of 1986, will be relaunched. Brown plans to produce around 8,000 trucks next year, with around 1,000 for the UK civilian market. They will be badged AWD for the British market, and AWD Bedford for the military and export markets.
Sales will be through the remaining Bedford truck dealers in this country, though neither Brown nor General Motors can say exactly how many such dealers remain.
UK parts sourcing, procurement, warehousing, sales and distribution will be handled by General Motors under a separate contract agreed between the two parties.
The TL and TM ranges will again be available in Britain next summer, but Brown is keeping tight-lipped about configurations, saying only that the trucks have the best suspension and chassis on the market, and the policy on engines will be to "fit the best available".
"Innovative engineering" will allow Bedford to develop existing vehicles, "spending around 220 million over a number of years", and to widen the range to extend from 7.5 tonnes to 100 tonnes.
The replacement for the TL chassis, which was developed, but never launched by General Motors, was hardly mentioned at the launch of AWD. Marketing director David Barnard General Motors Bedford truck and bus plant at Dunstable has been bought by entrepreneur David JB Brown for an undisclosed sum.
says: "We are having to be a little coy about these things — now is not the moment to deal with new product plans." The news that the first of a new range of products from Dunstable will be launched next year is bound to fuel speculation about the TL replacement.