15-year wait on 40 tonnes?
26th November 1987
Page 6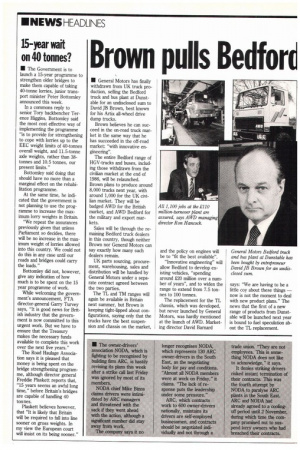 Page 6, 26th November 1987 —
15-year wait on 40 tonnes?
Close
• The Government is to launch a 15-year programme to strengthen older bridges to make them capable of taking 40-tonne lorries, junior transport minister Peter Bottomley announced this week.
In a commons reply to senior Tory backbencher Terence Higgins, Bottomley said the most cost effective way of implementing the programme "is to provide for strengthening to cope with lorries up to the EEC weight limits of 40-tonnes overall weight, and 11.5-tonne axle weights, rather than 38tonnes and 10.5 tonnes, our present limits."
Bottomley said doing that should have no more than a marginal effect on the rehabilitation programme.
At the same time, he indicated that the government is not planning to use the programme to increase the maximum lorry weights in Britain.
"We repeat the assurances previously given that unless Parliament so decides, there will be no increase in the maximum weight of lorries allowed into this country. We could not do this in any case until our roads and bridges could carry the loads."
Bottomley did not, however, give any indication of how much is to be spent on the 15 year programme of work.
While welcoming the government's announcement, FTA director-general Garry Turvey says, "It is good news for British industry that the government is now committed to this urgent work. But we have to ensure that the Treasury makes the necessary funds available to complete this work over the next five years."
The Road Haulage Association says it is pleased that money is being spent on the bridge strengthening programme, although director general Freddie Plaskett reports that, "15 years seems an awful long time," before Britain's bridges are capable of handling 40 tonnes, Plaskett believes however, that "It is likely that Britain will be required to fall into line sooner on gross weights. In my view the European court will insist on its being sooner."