• The owner-drivers' association NODA, which is fighting to be
26th November 1987
Page 6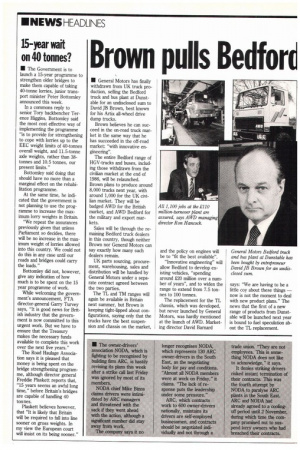 Page 6, 26th November 1987 —
• The owner-drivers' association NODA, which is fighting to be
Close
recognised by building firm ARC, is hastily revising its plans this week after a strike call last Friday was ignored by most of its members.
NODA chief Mike Binns claims drivers were intimidated by ARC managers and threatened with the sack if they went ahead with the action, although a significant number did stay away from work.
The company says it no longer recognises NODA, which represents 130 ARC owner-drivers in the South East, as the negotiating body for pay and conditions. "Almost all NODA members were at work on Friday," it claims. "The lack of response puts the leadership under some pressure."
ARC, which contracts work to 600 owner-drivers nationally, maintains its drivers are self-employed businessmen, and contracts should be negotiated individually and not through a trade union. "They are not employees. This is something NODA does not like to acknowledge," it says.
It denies striking drivers risked instant termination of their contracts. This was the fourth attempt by NODA to paralyse ARC plants in the South East. ARC and NODA had already agreed to a coolingoff period until 2 November, during which time the company promised not to suspend lorry owners who had breached their contracts.