DEALERS
26th November 1987
Page 34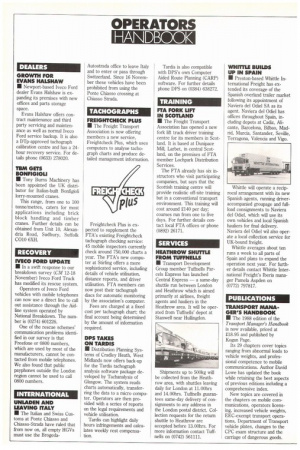 Page 35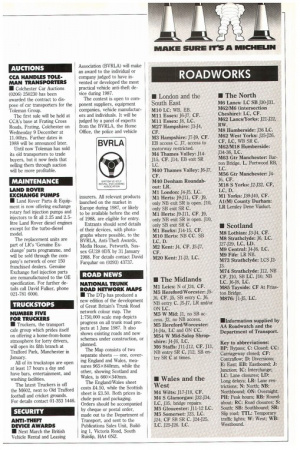 Page 34, 26th November 1987 —
DEALERS
Close
Keywords :
British Brands
,
Fiat
,
Iveco
,
Tachograph
,
London Heathrow Airport
,
Land Rover
,
Truck Driver
,
Tardis
,
Freight Transport Association
,
Heathrow
,
Rover Company
GROWTH FOR E VANS HALSHAW • Newport-based Iveco Ford dealer Evans Halshaw is expanding its premises with new offices and parts storage space.
Evans Halshaw offers contract maintenance and third party servicing and maintenance as well as normal Iveco Ford service backup. It is also a DTp-approved tachograph calibration centre and has a 24hour recovery service. For details phone (0633) 278020.
TBM GETS B ONFIGIOLI • Tony Burns Machinery has been appointed the UK distributor for Italian-built Bonfigioli lorry-mounted cranes.
This range, from one to 100 tonne/metres, caters for most applications including brick block handling and timber cranes. Further details can be obtained from Unit 10, Alexandria Road, Sudbury, Suffolk C010 6X1-l.
RECOVERY
MECO FORD UPDATE • In a swift response to our breakdown survey (CM 12-18 November) Iveco Ford Truck has modified its rescue system.
Operators of Iveco Ford vehicles with mobile telephones can now use a direct line to call out assistance through the Aidline system operated by National Breakdown. The number is (0274) 601226.
One of the rescue schemes' communication problems identified in our survey is that Freefone or 0800 numbers, which are used by most of the manufacturers, cannot be contacted from mobile telephones. We also found that public payphones outside the London region cannot be used to call 0800 numbers.
INTERNATIONAL
UNLADEN AND LEAVING ITALY • The Italian and Swiss Customs at Ponte Chiasso and Chiasso-Strada have ruled that from now on, all empty HGVs must use the Brogeda Autostrada office to leave Italy and to enter or pass through Switzerland. Since 16 November these vehicles have been prohibited from using the Ponte Chiasso crossing at Chiasso Strada.
TACHOGRAPHS
FREIGHTCHECK PLUS • The Freight Transport Association is now offering members a new service, Freightcheck Plus, which uses computers to analyse tachograph charts and produce detailed management information.
Freightcheck Plus is expected to supplement the FTA's existing Freightcheck tachograph checking service: 45 mobile inspectors currently check around 750,000 charts a year. The FTA's new computer at Stirling offers a more sophisticated service, including details of vehicle utilisation, distance reports, and driver utilisation. FTA members can now post their tachograph discs for automatic monitoring by the association's computer.
Fees are charged at a fixed cost per tachograph chart; the final account being determined by the amount of information required.
BPS TAKES ON TARDIS • Distribution Planning Systems of Cradley Heath, West Midlands now offers back-up for the Tardis tachograph analysis software package developed by Tachanalysis of Glasgow. The system reads charts automatically, transferring the data to a micro computer. Operators are then provided with a series of reports on the legal requirements and vehicle utilisation.
Tardis can highlight daily hours infringements and calculates weekly rest compensation. Tardis is also compatible with DPS's own Computer Aided Route Planning (CARP) software. For further details phone DPS on (0384) 638272.
TRAINING
FTA FORK LIFT IN SCOTLAND 11 The Freight Transport Association has opened a new fork lift truck driver training centre for its members in Scotland. It is based at Dunipace Mill, Larbet, in central Scotland, on the premises of FTA member Lochpark Distribution Services.
The FTA already has six instructors who visit participating companies, but says that the Scottish training centre will provide realistic off-site training but in a conventional transport environment. This training will cost around £140 per day; courses run from one to five days. For further details contact local FTA offices or phone (0892) 26171.
SERVICES
HEATHROW SHUTTLE FROM TUFFNELLS • Transport Development Group member Tuffnells Parcels Express has launched Central Express — a same-day shuttle run between London and Heathrow which is aimed primarily at airlines, freight agents and hauliers in the Heathrow area. It will be operated from Tuffnells' depot at Stanwell near Hullingdon.
Shipments up to 500kg will be collected from the Heathrow area, with shuttles leaving daily for London at 11.00hrs and 14.00hrs. Tuffnells guarantees same-day delivery of consignments to any address in the London postal district. Collection requests for the return shuttle to Heathrow are accepted before 13.00hrs. For more information contact Tuffnells on (0742) 561111. WHITTLE BUILDS UP IN SPAIN • Preston-based Whittle International Freight has extended its coverage of the Spanish overland trailer market following its appointment of Naviera del Odiel SA as its agent. Naviera del Odiel has offices throughout Spain, including depots at Cadiz, Alicante, Barcelona, Bilbao, Madrid, Murcia, Santander, Seville, Terragona, Valencia and Vigo.
Whittle will operate a reciprocal arrangement with its new Spanish agents, running driveraccompanied groupage and fullload consignments to Naviera del Odiel, which will use its own vehicles and local Spanish hauliers for final delivery. Naviera del Odiel wil also operate a local collection service for UK-bound freight.
Whittle averages about ten runs a week to all parts of • Spain and plans to expand the Operation next year. For further details contact Whittle International Freight's Iberia manager Pamela Aspden on (0772) 797817.
PUBLICATIONS
TRANSPORT MANAGER'S HANDBOOK • The 1988 edition of the Transport Manager's Handbook is now available, priced at £18.95 and published by Kogan Page.
Its 29 chapters cover topics ranging from abnormal loads to vehicle weights, and professional competence to mobile communications. Author David Lowe has updated the book while retaining the best aspects of previous editions including a comprehensive index.
New topics are covered in the chapters on mobile communications, operators licensing, increased vehicle weights, EEC-exempt transport operations, Department of Transport vehicle plates, changes to the CPC exam structure and the carriage of dangerous goods.
AUCTIONS
CCA HANDLES TOLEMAN TRANSPORTERS • Colchester Car Auctions (0206) 250230 has been awarded the contract to dispose of car transporters for the Tolman Group.
The first sale will be held at CCA's base at Frating Cross Roads, Frating, Colchester on Wednesday 9 December at 11.00hrs. Further dates in 1988 will be announced later.
Until now Toleman has sold its old transporters to trade buyers, but it now feels that selling them through auction will be more profitable.
MAINTENANCE
LAND ROVER EXCHANGE PUMPS • Land Rover Parts & Equipment is now offering exchange rotary fuel injection pumps and injectors to fit all 2.25 and 25litre Land Rover diesel engines except for the turbo-diesel model.
The replacement units are part of LR's 'Genuine Exchange' parts programme, and will be sold through the company's network of over 150 franchised dealers. Genuine Exchange fuel injection parts are remanufactured to the OE specification. For further details call David Fulker, phone 021-781 6000.
TRUCKSTOPS
NUMBER FIVE FOR TRUCKERS • Truckers, the transport cafe group which prides itself on offering a home-from-home atmosphere for lorry drivers, will open its fifth branch at Trafford Park, Manchester in January.
All of its truckstops are open at least 17 hours a day and have bars, entertainment, and washing facilities.
The latest Truckers is off the M602, next to Old Trafford football and cricket grounds. For details contact 01-353 1446.
SECURITY
ANTI-THEFT DEVICE AWARDS • Next March the British Vehicle Rental and Leasing Association (BVRLA) will make an award to the individual or company judged to have invented or developed the most practical vehicle anti-theft device during 1987.
The contest is open to component suppliers, equipment companies, vehicle manufacturers and individuals. It will be judged by a panel of experts from the BVRLA, the Home Office, the police and vehicle insurers. All relevant products launched on the market in Europe during 1987, or likely to be available before the end of 1988, are eligible for entry.
Entrants should send details of their devices, with photographs where possible, to the BVRLA, Anti-Theft Awards, Media House, Petworth, Sussex GU28 ODX by 31 January 1988. For details contact David Farquhar on (0293) 43737.
ROAD NEWS
NATIONAL TRUNK ROAD NETWORK MAPS • The DTp has produced a new edition of the development of Great Britain's Trunk Road network colour map. The 1:750,000 scale map depicts progress on all trunk road projects at 1 June 1987. It also shows existing roads and new schemes under construction, or planned.
The Map consists of two separate sheets one, covering England and Wales, measures 965x840inm, while the other, showing Scotland and Wales, is 660 x 340mm.
The England/Wales sheet costs 24.50, while the Scottish sheet is 23.50. Both prices include post and packaging. Orders should be accompanied by cheque or postal order, made out to the Department of Transport, and sent to the Publications Sales Unit, Building 1, Victoria Road, South Ruislip, HA4 ONZ.