Lorry theft gang jailed
26th November 1987
Page 22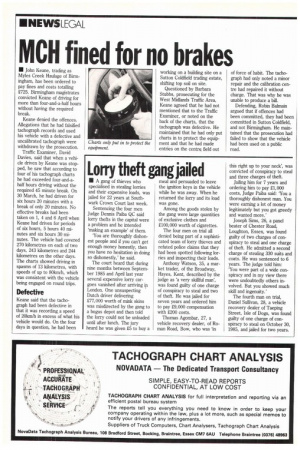 Page 22, 26th November 1987 —
Lorry theft gang jailed
Close
• A gang of thieves who specialised in stealing lorries and their expensive loads, was jailed for 22 years at Southwark Crown Court last week.
Sentencing the four men Judge Dennis Paiba QC said lorry thefts in the capital were a problem and he intended 'making an example' of them.
'You are thoroughly dishonest people and if you can't get enough money honestly, then you have no hesitation in doing so dishonestly,' he said.
The court heard that during nine months between September 1985 and April last year several expensive lorry cargoes vanished after arriving in London. One unsuspecting Dutch driver delivering £77,000 worth of mink skins was misdirected by the gang to a bogus depot and then told the lorry could not be unloaded until after lunch. The jury heard he was given £5 to buy a meal and persuaded to leave the ignition keys in the vehicle while he was away. When he returned the lorry and its load was gone.
Among the goods stolen by the gang were large quantities of exclusive clothes and £100,000 worth of cigarettes.
The four men on trial all denied being part of a sophisticated team of lorry thieves and refuted police claims that they had been spotted following lorries and inspecting their loads.
Anthony Watson, 35, a market trader, of the Broadway, Hayes, Kent, described by the judge as 'a very skillful man', was found guilty of one charge of conspiracy to steal and two of theft. He was jailed for seven years and ordered him to pay £9,000 compensation with £200 costs.
Thomas Agombar, 27, a vehicle recovery dealer, of Roman Road, Bow, who was in this right up to your neck', was convicted of conspiracy to steal and three charges of theft.
Jailing him for 7 years and ordering him to pay £1,000 costs, Judge Paiba said: 'You a thoroughly dishonest man. You were earning a lot of money legitimately but you got greedy • and wanted more.'
Joseph Sims, 26, a panel beater of Chester Road, Loughton, Essex, was found guilty of two charges of conspiracy to steal and one charge of theft. He admitted a second charge of stealing 330 suits and coats. He was sentenced to 6 years. The judge told him: 'You were part of a wide conspiracy and in my view there were undoubtedly others involved. But you showed much skill and ingenuity.'
The fourth man on trial, Daniel Sullivan, 28, a vehicle recovery dealer of Taeping Street, Isle of Dogs, was found guilty of one charge of conspiracy to steal on October 30, 1985, and jailed for two years.