CH fined for no brakes
26th November 1987
Page 22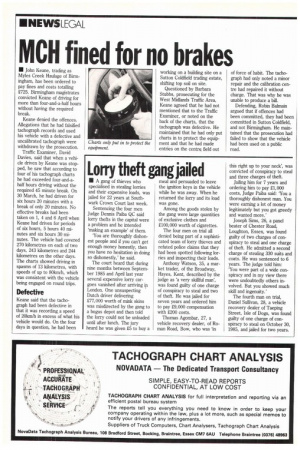 Page 22, 26th November 1987 —
CH fined for no brakes
Close
• John Keane, trading as Myles Creek Haulage of Birmingham, has been ordered to pay fines and costs totalling £725. Birmingham magistrates convicted Keane of driving for more than four-and-a-half hours without having the required break.
Keane denied the offences. Allegations that he had falsified tachograph records and used his vehicle with a defective and uncalibrated tachograph were withdrawn by the prosecution.
Traffic Examiner, David Davies, said that when a vehicle driven by Keane was stopped, he saw that according to four of his tachograph charts he had exceeded four-and-ahalf hours driving without the required 45 minute break. On 30 March, he had driven for six hours 20 minutes with a break of only 20 minutes. No effective breaks had been taken on 1, 4 and 6 April when Keane had driven for periods of six hours, 5 hours 40 minutes and six hours 30 minutes. The vehicle had covered 270 kilometres on each of two days, 243 kilometres and 244 kilometres on the other days. The charts showed driving in spasms of 13 kilometres, with speeds of up to 80km/h, which was consistent with the vehicle being engaged on round trips.
Defective
Keane said that the tachograph had been defective in that it was recordinga speed of 20Ion/h in excess of what his vehicle would do. On the four days in question, he had been working on a building site on a Sutton Coldfield trading estate, shifting top soil on site.
Questioned by Barbara Stubbs, prosecuting for the West Midlands Traffic Area, Keane agreed that he had not mentioned that to the Traffic Examiner, or noted on the back of the charts, that the tachograph was defective. He maintained that he had only put charts in to protect the equipment and that he had made entries on the centre field out of force of habit. The tachograph had only noted a minor repair and the calibration centre had repaired it without charge. That was why he was unable to produce a bill.
Defending, Robin Balmain argued that if offences had been committed, they had been committed in Sutton Coldfield, and not Birmingham. He maintained that the prosecution had failed to show that the vehicle had been used on a public road.