We'll do it your way
26th November 1987
Page 130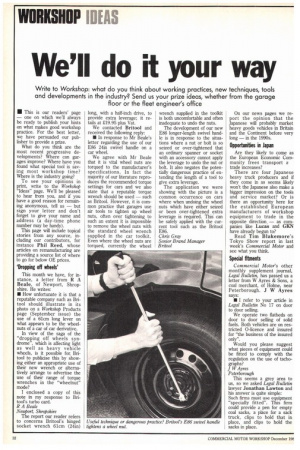 Page 130, 26th November 1987 —
We'll do it your way
Close
Write to Workshop: what do you think about working practices, new techniques, tools and developments in the industry? Send us your prize ideas, whether from the garage floor or the fleet engineer's office • This is our readers' page — one on which we'll always be ready to publish your hints on what makes good workshop practice. For the best letter, we have persuaded our publisher to provide a prize.
What do you think are the most recent progressive developments? Where can garages improve? Where have you found what special tool is saving most workshop time? Where is the industry going?
To see your opinions in print, write to the Workshop "Ideas" page. We'll be pleased to hear from you, and if you have a good reason for remaining anonymous, tell us — but sign your letter and don't forget to give your name and address (a day-time phone number may be handy).
This page will include topical stories from any source, including our contributors, for instance Phil Reed, whose articles on remanufacturing are providing a source list of where to go for below OE prices.
'Dropping off wheels'
This month we have, for instance, a letter from R A Beale, of Newport, Shropshire. He writes: • How unfortunate it is that a reputable company such as Britool should illustrate in its photo on a Workshop Products page (September issue) the use of a 61cm long lever on what appears to be the wheelnuts of a car of car derivative.
In view of the saga of the "dropping off wheels syndrome", which is affecting light as well as heavy vehicle wheels, is it possible for. Britool to publicise this by showing either an appropriate use of their new wrench or alternatively arrange to advertise the use of their range of torque wrenches in the "wheelnut" mode?
I enclosed a copy of this note in my response to Britool's turbo card.
R A Beale Newport, Shropshire The report our reader refers to concerns Britool's hinged socket wrench 61cm (24in) long, with a half-inch drive, to provide extra leverage; it retails at 219.95 plus Vat.
We contacted Britool and received the following reply: • In response to Mr Beale's letter regarding the use of our E86 24in swivel handle on a car wheel.
We agree with Mr Beale that it is vital wheel nuts are torqued to the manufacturer's specifications. In fact the majority of our literature reproduces the recommended torque settings for cars and we also state that a reputable torque wrench should be used — such as Britool. However, it is common practice that garages use air tools to tighten up wheel nuts, often over tightening to such an extent it is impossible to remove the wheel nuts with the standard wheel wrench supplied in the car toolkit. Even where the wheel nuts are torqued, currently the wheel wrench supplied in the toolkit is both uncomfortable and often inadequate to undo the nuts.
The development of our new E86 longer-length swivel handle is in response to the situations where a nut or bolt is so seized or over-tightened that an ordinary spanner or socket with an accessory cannot apply the leverage to undo the nut or bolt. It also negates the potentially dangerous practice of extending the length of a tool to give extra leverage.
The application we were showing with the picture is a common occurrence on cars where when undoing the wheel nuts which have either seized or been over-tightened extra leverage is required. This can be safely applied with the current tool such as the Britool E86.
Chris Gray Senior Brand Manager Bnlool On our news pages we report the opinion that the Japanese will probably market heavy goods vehicles in Britain and the Continent before very long — in the 1990s.
Opportimities in Japan
Are they likely to come as the European Economic Community frees transport a trade increases?
There are four Japanese heavy truck producers and if they come in as seems likely won't the Japanese also make a bigger impression on the tools and service market? Or is there an opportunity here for the established European manufacturers of workshop equipment to trade in the opposite direction. — as companies like Lucas and GICN have already begun to?
Read Tim Blakemore's Tokyo Show report in last week's Commercial Motor and see what you think.
Special fitments Commercial Motor's other monthly supplement journal, Legal Bulletin, has passed us a letter from W Ayres & Sons, a coal merchant, of Holme, near Peterborough. J W Ayres says: • I refer to your article in Legal Bulletin No 17 on door to door selling.
We operate two flatbeds on door to door selling of solid fuels. Both vehicles are on restricted 0-licence and insured for "the business of the insured only".
Would you please suggest what pieces of equipment could be fitted to comply with the regulation on the use of tachographs?
J W Ayres Peterborough This seems a grey area to us, so we asked Legal Bulletin lawyer Jonathan Lawton and his answer is quite simple: Such firms must use equipment "specially fitted". This firm could provide a pen for empty coal sacks, a place for a sack truck, clips to hold that in place, and clips to hold the sacks in place.