Fibre is by pulse
26th November 1987
Page 128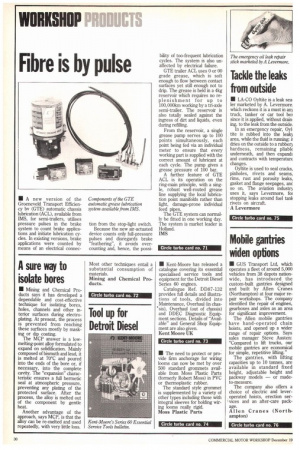 Page 128, 26th November 1987 —
Fibre is by pulse
Close
• A new version of the Groeneveld Transport Efficiency by (GTE) automatic chassis lubrication (ACL), available from IMS, for semi-trailers, utilises pressure pulses in the brake system to count brake applications and initiate lubrication cycles. In existing versions, brake applications were counted by means of an electrical connec tion from the stop-light switch.
Because the new air-actuated device counts only full-pressure pulses and disregards brake "feathering", it avoids overcounting and, hence, the possi bility of too-frequent lubrication cycles. The system is also unaffected by electrical failure.
GTE trailer ACL uses 0 or 00 grade grease, which is soft enough to flow between contact surfaces yet still enough not to drip. The grease is held in a 4I.Eg reservoir which requires no replenishment for up to 100,000km working by a tri-axle semi-trailer. The reservoir is also totally sealed against the ingress of dirt and liquids, even during refilling.
From the reservoir, a single grease pump serves up to 100 points simultaneously, each point being fed via an individual meter to ensure that every working part is supplied with the correct amount of lubricant at each cycle. The pump gives a grease pressure of 100 bar.
A further feature of GTE ACL is its operation on the ring-main principle, with a single, robust well-routed grease line supplying the local lubrication point manifolds rather than light, damage-prone individual feed pipes.
The GTE system can normally be fitted in one working day. The system is market leader in Holland.
IMS