All-night service
26th November 1987
Page 120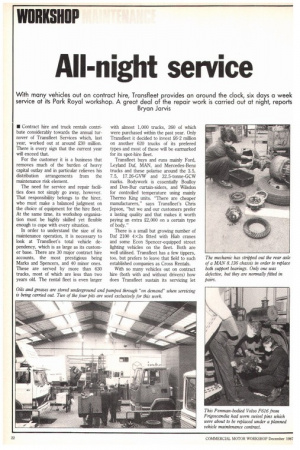 Page 121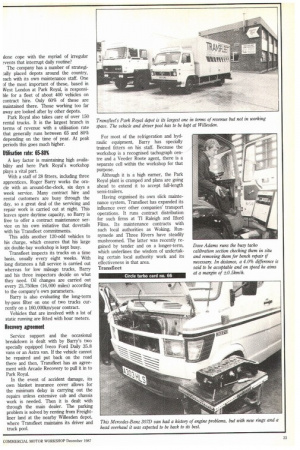 Page 120, 26th November 1987 —
All-night service
Close
With many vehicles out on contract hire, Transfleet provides an around the clock, six days a week service at its Park Royal workshop. A great deal of the repair work is carried out at night, reports
• Contract hire and truck rentals contribute considerably towards the annual turnover of Transfleet Services which, last year, worked out at around .£30 million. There is every sign that the current year will exceed that.
For the customer it is a business that removes much of the burden of heavy capital outlay and in particular relieves his distribution arrangements from the maintenance risk element.
The need for service and repair facilities does not simply go away, however. That responsibility belongs to the hirer, who must make a balanced judgment on the choice of equipment for the hire fleet. At the same time, its workshop organisation must be highly skilled yet flexible enough to cope with every situation.
In order to understand the size of its maintenance operation, it is necessary to look at Transfleet's total vehicle dependency, which is as large as its customer base. There are 30 major contract hire accounts, the most prestigious being Marks and Spencers, and 40 minor ones. These are served by more than 630 trucks, most of which are less than two years old. The rental fleet is even larger with almost 1,000 trucks, 260 of which were purchased within the past year. Only Transfleet it decided to invest 26.2 million on another 620 trucks of its prefered types and most of these will be earmarked for its spot-hire fleet.
Transfleet buys and runs mainly Ford, Leyland Daf, MAN, and Mercedes-Benz trucks and these polarise around the 3.5, 7.5, 17.26-GVW and 32.5-tonne-GCW marks. Bodywork is essentially Boalloy and Don-Bur curtain-siders, and Wilsdon for controlled temperature using mainly Thermo King units. "There are cheaper manufacturers," says Transfleet's Chris Jepson, "but we and our customers prefer a lasting quality and that makes it worth paying an extra £2,000 on a certain type of body."
There is a small but growing number of Daf 2100 4 x2s fitted with Hiab cranes and some Econ Spencer-equipped street lighting vehicles on the fleet. Both are well utilised. Transfleet has a few tippers, too, but prefers to leave that field to such established companies as Cross Rentals.
With so many vehicles out on contract hire (both with and without drivers) how does Transfleet sustain its servicing let done cope with the myriad of irregular events that interrupt daily routine?
The company has a number of strategi:ally placed depots around the country, each with its own maintenance staff. One of the most important of these, based in West London at Park Royal, is responsible for a fleet of about 400 vehicles on contract hire. Only 60% of these are maintained there. Those working too far away are looked after by other depots.
Park Royal also takes care of over 150 rental trucks. It is the largest branch in terms of revenue with a utilisation rate that generally runs between 65 and 80% depending on the time of year. At peak periods this goes much higher.
Utilisation rate: 65-80% A key factor is maintaining high availability and here Park Royal's workshop plays a vital part.
With a staff of 28 fitters, including three apprentices, Roger Barry works the ora cle with an around-the-clock, six days a week service. Many contract hire and rental customers are busy through the day, so a great deal of the servicing and repair work is carried out at night. This leaves spare daytime capacity, so Barry is free to offer a contract maintenance service on his own initiative that dovetails with his Transfleet commitments.
This adds another 120-odd vehicles to his charge, which ensures that his large six double-bay workshop is kept busy.
Transfleet inspects its trucks on a time basis, usually every eight weeks. With long distances a full service is carried out whereas for low mileage trucks, Barry and his three inspectors decide on what they need. Oil changes are carried out every 25,750km (16,000 miles) according to the company's own parameters.
Barry is also evaluating the long-term by-pass filter on one of two trucks currently on a 160,000krn/year contract.
Vehicles that are involved with a lot of static running are fitted with hour meters.
Recovery agreement Service support and the occasional breakdown is dealt with by Barry's two specially equipped Iveco Ford Daily 35.8 vans or an Astra van. If the vehicle cannot be repaired and put back on the road there and then, Transfleet has an agreement with Arcade Recovery to pull it in to Park Royal.
In the event of accident damage, its own blanket insurance cover allows for the minimum delay in carrying out the repairs unless extensive cab and chassis work is needed. Then it is dealt with through the main dealer. The parking problem is solved by renting from Freightliner land at the nearby Willesden depot, where Transfleet maintains its driver and truck pool. For most of the refrigeration and hydraulic equipment, Barry has specially trained fitters on his staff. Because the workshop is a recognised tachograph centre and a Veeder Roote agent, there is a separate cell within the workshop for that purpose.
Although it is a high earner, the Park Royal plant is cramped and plans are going ahead to extend it to accept full-length semi-trailers.
Having organised its own slick maintenance system, Transfleet has expanded its influence over other companies' transport operations. It runs contract distribution for such firms at TI Raleigh and Ilford Films. Its maintenance contracts with such local authorities as Woking, Runnymede and Three Rivers have steadily mushroomed. The latter was recently regained by tender and on a longer-term, which underlines the wisdom of undertaking certain local authority work and its effectiveness in that area.
Transfleet