there is no reason for having the workshop at all.
26th November 1987
Page 116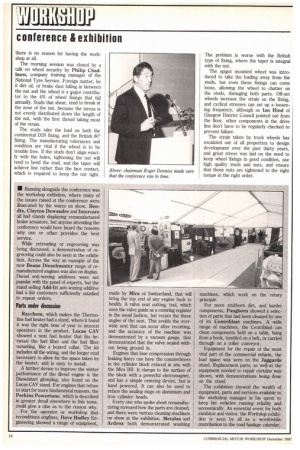 Page 116, 26th November 1987 —
there is no reason for having the workshop at all.
Close
The morning session was closed by a talk on wheel security by Philip Chadburn, company training manager of the National Tyre Service. Foreign matter, be it dirt oil, or brake dust falling in between the nut and the wheel is a inajor contributor to the 4% of wheel fixings that fail annually. Studs that shear, tend to break at the nose of the nut, because the stress is not evenly distributed down the length of the nut, with the first thread taking most of the strain.
The studs take the load on both the continental DIN fixing, and the British 800 fixing. The manufacturing tolerances and condition are vital if the wheel is to be trouble free. If the studs don't align exactly with the holes, tightening the nut will tend to bend the stud, and the taper will achieve line rather than the face contact, which is required to keep the nut tight. The problem is worse with the British type of fixing, where the taper is integral with the nut_ The spigot mounted wheel was introduced to take the loading away from the studs, but even these fixings can come loose, allowing the wheel to chatter on the studs, damaging both parts. Off-set wheels increase the strain on the fixing, and cyclical stresses can set up a loosening frequency, although as Ian Hind of Glasgow District Council pointed out from the floor, other components in the drive line don't have to be regularly checked to prevent failure.
The strain taken by truck wheels has escalated out of all proportion to design development over the past thirty years, and great stress was laid on the need to keep wheel fixings in good condition, use high quality studs and nuts, and ensure that those nuts are tightened to the right torque in the right order.