Filter out downtime • Calor Gas has introduced a new
26th November 1987
Page 106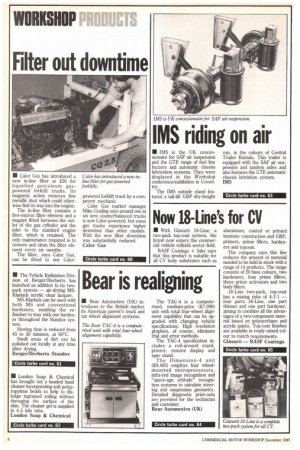 Page 106, 26th November 1987 —
Filter out downtime • Calor Gas has introduced a new
Close
in-line filter at 230 for liquefied petroleum gaspowered forklift trucks. Its magnetic action removes fine metallic dust which could otherwise find its way into the engine.
The in-line filter contains a five-micron filter element and a magnet fitted between the outlet of the gas cylinder and the inlet to the standard engine filter, which is retained. The only maintenance required is to remove and clean the filter element every six months.
The filter, says Calor Gas, can be fitted to any Calor powered forklift truck by a competent mechanic.
Calor Gas market manager Mike Gosling says around one in six new counterbalanced trucks is now Calor-powered, but some gas trucks experience higher downtime than other models. With the new filter downtime was substantially reduced. Calor Gas