WORKSHOP NEWS
26th November 1987
Page 105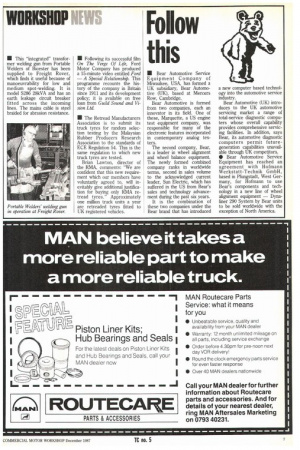 Page 105, 26th November 1987 —
WORKSHOP NEWS
Close
• This "integrated" transformer welding gun from Portable Welders of Bicester has been supplied to Freight Rover, which finds it useful because of manoeuvrability for low and medium spot-welding. It is model S286 28kVA and has an earth leakage circuit breaker fitted across the incoming lines. The mains cable is steel braided for abrasion resistance. • Following its successful film On The Verge Of Life, Ford Motor Company has produced a 15-minute video entitled Ford — A Special Relationship. This programme recounts the history of the company in Britain since 1911 and its development policy; it is available on free loan from Guild Sound and Vision Ltd.
• The Retread Manufacturers Association is to submit its truck tyres for random selection testing by the Malaysian Rubber Producers Research Association to the standards of ECE Regulation 54. This is the same regulation to which new truck tyres are tested.
Brian Lawton, director of the RMA, comments: "We are confident that this new requirement which our members have voluntarily agreed to, will inevitably give additional justification for buying only RMA retread tyres." Approximately one million truck units a year are retreaded tyres fitted to UK registered vehicles.