Follow this
26th November 1987
Page 105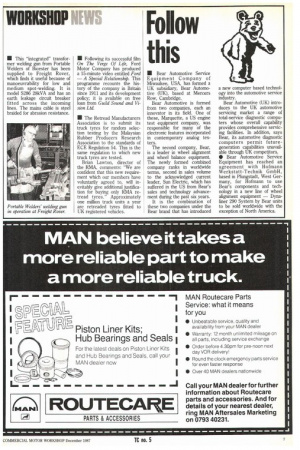 Page 105, 26th November 1987 —
Follow this
Close
• Bear Automotive Service Equipment Company of Miwaukee, USA, has formed a UK subsidiary, Bear Automotive (UK), based at Mercers Row, Cambridge.
Bear Automotive is formed from two companies, each an innovator in its field. One of these, Marquette, a US engine test equipment company, was responsible for many of the electronic features incorporated in contemporary analog testers.
The second company, Bear, is a leader in wheel alignment and wheel balance equipment. The newly formed combined company ranks in worldwide terms, second in sales volume to the acknowledged current leader, Sun Electric, which has suffered in the US from Bear's sales and technology advancement during the past six years.
It is the combination of these two companies under the Bear brand that has introduced a new computer based technology into the automotive service industry.
Bear Automotive (UK) introduces to the UK automotive servicing market a range of total-service diagnostic computers whose overall capability provides comprehensive servicing facilities. In addition, Says Bear, its automotive diagnostic computers permit futuregeneration capabilities unavailable through UK competitors.
• Bear Automotive Service Equipment has reached an agreement with Hofmann Werkstatt-Technik GmbH, based in Pfwigstadt, West Germany, for Hofmann to use Bear's components and technology in a new line of wheel alignment equipment — Dynaliner 290 System by Bear units to be sold worldwide with the exception of North America.