Economical
26th November 1948
Page 53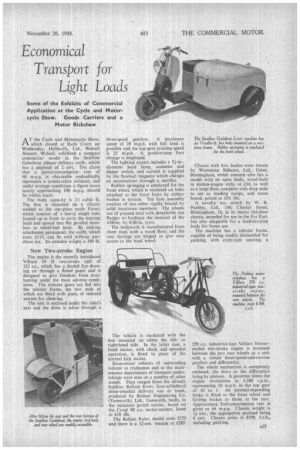 Page 53, 26th November 1948 —
Economical
Close
Transport for
Light Loads
Some of the Exhibits of Commercial Application at the Cycle and Motorcycle Show, Goods Carriers and a Motor Rickshaw
AT the Cycle and Motorcycle Show, which closed at Earls Court on Wednesday, Helliwells, Ltd., Walsall Airport, Walsall, exhibited a compact commercial inodel in the Swallow Gababout sidecar delivery outfit, which has a payload of 2 cwt. The claim that a petrol-consumption rate of 60 m.p.g. is obtainable undoubtedly represents a conservative estimate, and under average conditions a figure more nearly approaching 100 m.p.g. should be within reach.
The body capacity is 11 cubic ft. The box is mounted on a chassis welded to the one-piece cycle frame, which consists of a heavy single tube looped up in front to carry the steering head and spread into flat parallel members at wheel-hub level. By making attachment permanent, the outfit, which costs £115, can be sold without purchase tax. Its unladen weight is 300 lb.
New Two-stroke Engine
The engine is the recently introduced Villiers 10 D two-stroke unit of 122 c.c., which has a ducted fan drawing air through a fluted panel and is designed to give freedom from oyerheating under the most adverse conditions. The exhaust gases are fed into the tubular frame, the two ends of which are fitted with pipes of reduced section for silencing.
The unit is enclosed under the riders seat and the drive is taken through a three-speed gearbox. A maximum speed of 28 m.p.h. with full load is possible and the top-gear cruising speed is 25 m.p.h. A positive-stop foot change is employed.
The lighting system includes a 5k-in.diameter head lamp, ammeter and dipper switch, and current is supplied by the flywheel magneto which charges an accumulator through a rectifier.
Rubber springing is employed for the front wheel, which is mounted on links attached to the front forks by rubber bushes in torsion. The fork assembly consists of two tubes rigidly braced by solid tranSverse members. The wheels are of pressed steel with detachable rim flanges to facilitate the removal of the 4.00-in. by 8.00-in. tyres.
The bodywork is manufactured from sheet steel, with a wood floor, and the rear fairings are hinged to give easy access to the back wheel.
The vehicle is marketed with the box mounted on either the leftor right-hand side. In the latter case, a hand starter, with chain and sprocket operation, is fitted in place of the normal kick starter.
Economical vehicles of outstanding interest to tradesmen and to the maintenance departments of transport undertakings were seen on a number of other stands. They ranged from the already familiar Reliant 8-cwt. four-cylindered three-wheeled delivery van or truck, produced by Reliant Engineering Co. (Tamworth), Ltd., Tamworth, Staffs, to the minature parcel carrier, based on ' the Corgi 98 c.c. motor-scooter, listed at £18 18s.
The Reliant 8-cwt. model costs £250 and there is a 12-cwt. version at £285. Chassis with box bodies were shoWn by Watsonian Sidecars, Ltd., Greet, Birmingham, which concern also has a model with an open body, wood-built in station-wagon style, at £34. as well as a large float, complete with drop ends to act as loading ramps, and name board, priced at £56 10s.
A novelty wa, struck by W. R. Pashley, Ltd., 140, Chester Street, Birmingham, 16, in its motor rickshaw chassis, intended for use in the Far East, but also adaptable for a load-carrying body for home use.
The machine has a tubular frame, capable of being readily dismantled for packing. with cycle-type steering; a 250 c.c. industrial-type Villiers blowercooled two-stroke engine is mounted between the two rear wheels as a unit with a robast* three-speed-and-reverse gearbox and differential.
The whole mechanism is completely enclosed, the drive to the differential being by pinions. A governor limits the engine revolutions to 3,500 r.p.m., representing 26 m.p.h. in the top gear of 10 to 1. An internal-expanding brake is fitted to the front wheel and Girling brakes to those at the rear. Approximate fuel-consumption rate is given as 64 m.p.g. Chassis weight is cwt., the appropriate payload being 4 cwt. Chassis price is t108, f.o.b,, including packing.