Mr. Barnes on His Roads Bill
26th November 1948
Page 33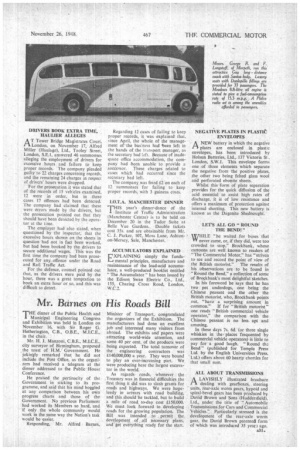 Page 33, 26th November 1948 —
Mr. Barnes on His Roads Bill
Close
THE dinner of the Public Health and Municipal Engineering Congress and Exhibition was held in London on November 16, with Sir Roger G. Hetherington, C.B., 0.B.E., M.1.C.E., in the chair.
Mr. H. J. Manzoni, C.B.E., M.I.C.E., city surveyor of Birmingham, proposed the toast of H.M.' Government. He jokingly remarked that he did not include the Post Office, as the organizers had received a telegram at the dinner addressed to the Public House Conference.
He praised the pertinacity of the Government in sticking to its programme, and said that his mind boggled at any comparison between his own progress charts and those of the Government. No previous Parliament had worked its Members so hard, and if only the whole community would work in the same way the Nation's task would be easier.
Responding, Mr. Alfred Barnes, Minister of Transport, congratulated the organizers of the Exhibition. The manufacturers had done an excellent job and interested many visitors from abroad. The exhibits and papers were attracting world-wide attention, and some 40 per cent, of the products were being exported. The total turnover of the engineering contractors was £140,000,000 a year. They were bound to play an ever-increasing part. We were producing here the largest excavator in the world.
As regards roads, whenever the Treasury was in financial difficulties the first thing it did was to slash grants for roads and highways. We were hopelessly in artears with road building, and this should be tackled, but to build a mile of road, to-day cost £150,000. We must look forward to developing roads for the _growing population. The Bill was intended _to permit the development of all necessary plans, and geteverything ready for the start.