Lucas Stocks 10 ,000,000 Items
26th November 1948
Page 32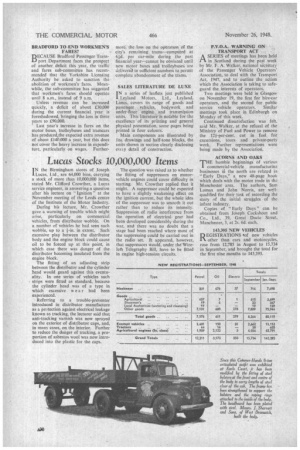 Page 32, 26th November 1948 —
Lucas Stocks 10 ,000,000 Items
Close
IN the Birmingham stores of Joseph lLucas, Ltd are 64,000 bins, carrying a stock of more than 10,000,000 items, staled Mr. Clifford Crowther, a Lucas service engineer, in answering a question after his lecture on " Ignition " at the November meeting of the Leeds centre of the Institute of the Motor Industry, During his lecture, Mr. Crowther gave a warning of trouble which might arise, particularly on commercial vehicles, from distributor wobble. On a number of vehicles he had seen such wobble, up to a 1-in. in extent. Such excessive play between the distributor body and the engine block could cause oil to be forced up at. this point, in which case there was danger of the distributor becoming insulated from the engine block.
The fitting of an adjusting strip between the distributor and the cylinder head would guard against this eventuality. In one series of vehicles such strips were fitted as standard, because the cylinder head was of a type in which excessive w ea r had been experienced.
Referring to a trouble-preventer introduced in distributor manufacture as a protection against electrical leakage known as tracking, the lecturer said that anti-tracking varnish was now sprayed on the exterior of distributor caps, and, in many cases, on the interior. Further to reduce the danger of tracking, a proportion of asbestos wool was now introduced into the plastic for the caps.
The question was raised as to whether the fitting of suppressors on motorvehicle engines could cause difficulty in starting. Mr. Crowther replied that it might. A suppressor could be expected to have a slightly weakening effect on the ignition current, but the whole idea of the suppressor was to smooth it out rather than to reduce its intensity. Suppression of radio interference from the operation of electrical gear had been developed considerably during the war, and there was no doubt that a stage had been reached where most of the suppressing could be carried out in the radio set. It appeared, however, that suppressors would, under the-Wirelees Telegraphy Bill, have to be fitted in engine high-tension circuits.