NEW T.R.T.A. SUB-AREA: APATHY • OVER TRANSPORT ACT
26th November 1948
Page 31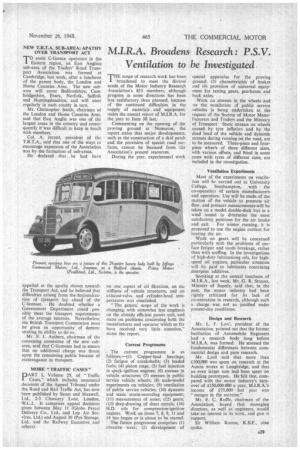 Page 31, 26th November 1948 —
NEW T.R.T.A. SUB-AREA: APATHY • OVER TRANSPORT ACT
Close
To assist C-licence operators in the Eastern region, an East Anglian sub-area of the Traders' Road Transport Association was formed at Cambridge, last week, after a luncheon of the parent body, the London and Home Counties Area. The new subarea will cover Bedfordshire, Cambridgeshire, Essex, Norfolk, Suffolk and Huntingdonshire, and will meet regularly in each county in turn.
MT. Christopher Smith, chairman of the London and Home Counties Area, said that East Anglia was one of the largest areas in the country and consequently it was difficult to keep in touch with members.
Col. A. Jerrett, president of the T.R.T.A., said that one of the ways to encourage expansion of the Association was by the formation of sub-areas.
He declared that be had been appalled at the apathy shown towards the Transport Act, and he believed that difficulties arising from the nationalization of transport lay ahead of the C-licensee. He doubted whether a Government Department could possibly meet the transport requirements of the average interests. Nevertheless, the British Transport Commission must be given an opportunity of demonstrating its ability to do so.
Mr. F. J. Authers, chairman of the convening committee of the new subarea, said that C-licensees had to ensure that no additional charge was thrust upon the consuming public because of extravagance in transport.
MORE "TRAFFIC CASES"
DART I, Volume 29, of "Traffic J. Cases," which includes annotated decisions of the Appeal Tribunal under the Road and Rail Traffic Act, has now been published by Sweet and Maxwell. Ltd., 2-3 Chancery Lane, London, W.C.2. It comprises appeal decisions given between May 11 (Globe Parcel Delivery Co., Ltd., and Lep Air Services, Ltd.) and August 30 (Pye Storage. Ltd.. and the •Railway Executive and others).