M.I.R.A. BroadensResearch: P.S.V.
26th November 1948
Page 31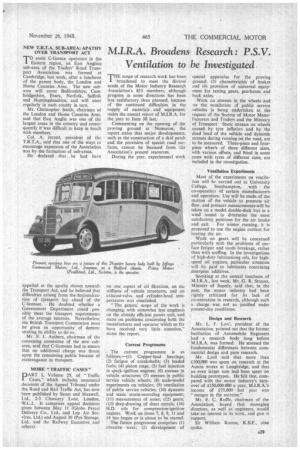 Page 31, 26th November 1948 —
M.I.R.A. BroadensResearch: P.S.V.
Close
Ventilation to be Investigated,
THE scope of research work has been broadened to meet the diverse. needs of the Motor Industry Research Association's 853 members, although progress in some directions has been less satisfactory than planned, because of the continued difficulties in the supply of materials and equipment, states the annual report of Ts1.1.R.A, for the year to June 30 last.
Commenting on the opening of the proving ground at Nuneaton, the report states that major developments, such as the construction of a skid patch and the provision of special road surfaces, cannot be financed from Cie Association's present resources.
During the year, experimental work on one aspect of oil filtration, on the stiffness of vehicle structures, and on exhaust-valve and cylinder-head temperatures was concluded.
"The genera: scope of the work is changing, with somewhat less emphasis on the already efficient power unit, and more on problems concerning both the manufacturer and operator which so far have received very little attention," states the report.
Current Programme
. The current programme is as follows:—(1) Copper-lead bearings; (2) fatigue of crankshafts; (3) leaded fuels; (4) piston rings; (5) fuel injection in spark-ignition engines; (6) stresses in vehicle structures; (7) stresses in public service vehicle wheels; (8) scale-model experiments on vehicles; (9) ventilation of-public service vehicles; (10) dynamic and static strain-recording equipment; (11) measurement of noise; (12) gears; t13) deep-drawing of sheet metals; (14) H.D. oils for compression-ignition engines. Work on items 7, S. 9, 11 and 14 has begun or is about to be started.
The future programme comprises (1) abrasive wear; (2) development of special apparatus for the proving ground; (3) characteristics of brakes and (4) provision of universal equipment for testing gears, gearboxes and back axles.
Work on stresses in the wheels and on the ventilation of public service vehicles is being undertaken at the request of the Society of Motor Manufacturers and Traders and the Ministry of Transport. Static stresses on wheels caused by tyre inflation and by the dead load of the vehicle and dynatnic stresses during running on the road, are to be measured. Three-piece and fourpiece wheels of three different sizes, with various offsets, and fitted in some cases with tyres of different sizes, are included in the investigation.
Ventilation Experiments Most of the experiments on ventilation will be carried out at University College, Southampton, with the co-operation of certain manufacturers and operators. Use will be made of the mation of the vehicle to promote air flow, and pressure ineasurements-will be taken on a model double-deck bus in a wind tunnel to determine the most satisfactory positions for the air intake and exit. For winter running, it is proposed to use the engine coolant for heating the air.
Work on gears will be concerned particularly with the problems of surface fatigue and tooth breakage, rather than with scuffing. In the investigations of high-duty lubricationg oils, for highspeed oil engines, particular attention will be paid to lubricants containing detergent additives.
Speaking at .the annual luncheon of M.I.R.A., last week, Mr. G. R. Strauss, Minister of Supply, said that, in the past, the motor industry had been rightly criticized for its lack of co-operation in research, although such a charge was not so justified under present-day conditions.
Design and Research Mr. L. F. Lord. president of the Association pointed out that the former Institution of Automobile Engineers had a research body long before M.I.R.A. was formed. He stressed the fundamental differences between commercial design and pure research.
Mr. Lord said that more than £100,000 was spent on research at the Austin works at Longbridge, and that an even large( sum had been spent on building prototypes. He felt that, compared with the motor industry's turnover of £150,000.000 a year, M.I.R.A.'s income of £73,000 last year was "meagre in the extreme."
Mr. E. C. Ruffle, chairman of the Association, hoped that managing directors, as well as engineers, would take an interest in its work, and give it support. .