Mr. Eden Promises More Freedom
26th November 1948
Page 30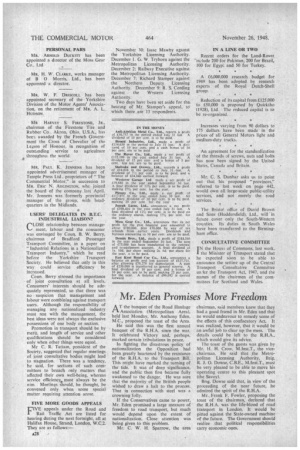 Page 30, 26th November 1948 —
Mr. Eden Promises More Freedom
Close
A T the banquet of the Road Haulage
Association (Metropolitan Area), held last Monday, Mr. Anthony Eden, M.C., proposed the toast of the Area.
He said this was the first annual banquet of the RAJA, since the war. It celebrated Victory and, perhaps. marked certain tribulations in peace.
In fighting the disastrous policy of nationalization the Opposition had been greatly heartened by the resistance of the R.H.A. to the Transport Bill. This might have marked the turning or the tide. It was of deep significance, and the public then first became fully awakened to the danger. He was sure that the majority of the British people wished to draw a halt to the process. That in connection with steel was a crowning folly.
If the Conservatives came to power, Mr. Eden promised a large measure of freedom to road transport, but much would depend upon the extent of nationalization. Close attention was being given to this problem.
Mr. C. W. H. Sparrow, the area chairman, said members knew that they had a good friend in Mr. Eden and that he would endeavour to remedy some of the effects of this confiscatory Act, It was realized, however, that it would be an awful job to clear up the mess. The details could be left to the R.H.A., which would give its advice.
The toast of the guests was given by Mr. H. H. Crow, Minst.T., the vicechairman. He said that the Metropolitan Licensing Authority, Brig. R. J. 0. Dowse, C.B.E., M.Inst.T., must be very pleased to be able to move his operating centre to. this pleasant spot (the Savoy).
Brig. Dowse said that, in view of the proceeding of the near future, he admired the spirit of the R.H.A.
Mr., Frank F. Fowler, proposing the toast of the chairman, declared that the R.H.A. was the life-blood of road transport in London. It would be pitted against the State-owned machine of the future. The Government should realize that political responsibilities carry economic ones.