Vehicles to Spare
26th November 1948
Page 26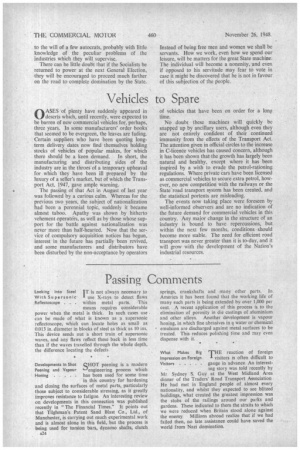 Page 26, 26th November 1948 —
Vehicles to Spare
Close
0ASES of plenty have suddenly appeared in deserts which, until recently, were expected to be barren of new commercial vehicles for, perhaps, three years. In some manufacturers' order books that seemed to be evergreen, the leaves are fading. Certain suppliers who have been quoting longterm delivery dates now find themselves holding stocks of vehicles of popular makes, for which there should be a keen demand. In short, the manufacturing and distributing sides of the industry are in the throes'of a temporary upheaval for which they have been ill prepared by the luxury of a seller's market, but of which the Transport Act, 1947, gave ample warning.
The passing of that Act in August of last year was followed by a curious calm. Whereas for the previous two years, the subject of nationalization had been a perennial topic, suddenly it became almost taboo. Apathy was shown by hitherto vehement operat6rs, as well as by those whose support for the battle against nationalization was never more than half-hearted. Now that the service of compulsory acquisition notices has begun, interest in the future has partially been revived, and some manufacturers and distributors have been disturbed by the non-acceptance by operators of vehicles that have been on order for a long time.
No doubt these machines will quickly be snapped up by ancillary users, although even they are not entirely confident of their continued immunity from the effects of the Transport Act. The attention given in official circles to the increase in C-licence vehicles has caused concern, although it has been shown that the growth has largely been natural and healthy, except where it has been inspired by a wish to evade the petrol-rationing regulations. Where private Cars have been licensed as commercial vehicles to secure extra petrol, however, no new competition with the railways or the State road transport system has been created, and the statistical portents are misleading.
The events now taking place were foreseen by well-informed observers and are no indication of the future demand for commercial vehicles in this country. Any major change in the structure of an industry is bound to have repercussions, but within the next few months, conditions 'should become more stable. The need for efficient road transport was never greater than it is to-day, and it will grow with the development of the Nation's industrial resources.