Passing Comments
26th November 1948
Page 26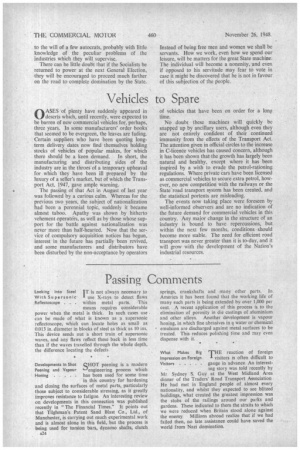 Page 27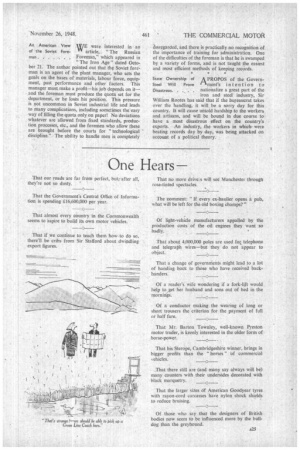 Page 26, 26th November 1948 —
Passing Comments
Close
IT is not always necessary to use X-rays to detect flaws within metal parts. This means requires considerable power when the metal is thick. In such cases use can be made of what is known as a supersonic reflectoscope, which can locate holes as small as 0.013 in. diameter in blocks of steel as thick as 10 ins. This device sends out a short train of supersonic waves, and any flaws reflect these back in less time than if the waves travelled through the whole depth, the difference locating the defects.
Looking into Steel With Supersonic Reflectoscope . . .
Developments In Shot SHOT peening is a modern Peening and Vapour "engineering process which Honing ..... has been used for some time in this country for hardening and closing the surfaces of metal parts, particularly those subject to considerable stressing, as it greatly improves resistance to fatigue. An interesting review on developments in this connection was published recently in "The Financial Times." It points out that Tilghman's Patent Sand Blast Co., Ltd., of Manchester, is carrying out much experimental work and is almost alone in this field, but the process is being used for torsion bars, dynamo shafts, clutch
A24 springs, crankshafts and many other parts. In America it has been found that the working life of many such parts is being extended by over 1,000 per cent. A recent application of this process is to the elimination of porosity in die castings of aluminium and other alloys. Another development is vapour honing, in which fine abrasives in I water or chemical emulsion are discharged against metal surfaces to be treated. This reduces polishing time and may 'even dispense with it.
What Makes Big THE reaction of foreign Impression on Foreign I visitors is often difficult to
Visitors gauge in advance. An interest ing story was told recently by Mr Sydney S. Guy at the West Midland Area dinner of the Traders' Road Transport Association He had met in England people of almost every nationality, and whilst they expected to see blitzed buildings, what created the greatest impression was the stubs of the railings around our parks and gardens. These indicated to them the straits to which we were reduced when Britain stood alone against the enemy. Millions abroad realize that if we had failed then, no late assistance could have saved the world from Nazi domination. An American View WE were interested in an of the Soviet Fore" article,. "The Russian man Foreman," which appeared in
"The Iron Age" dated October 21. The author pointed out that the Soviet foreman is an agent of the plant manager, who sets the goals on the bases of materials, labour force, equipment, past performance and other factors. This manager must make a profit—his job depends on it— and the foreman must produce the quota set for the department, or he loses his position. This pressure is not uncommon in Soviet industrial life and leads to many complications, including sometimes the easy way of filling the quota only on paper! No deviations whatever are allowed from fixed standards, production processes, etc., and the foremen who allow these are brought before the courts for "technological discipline." The ability to handle men is completely
asregarded, and there is practically no recognition of the importance of training for administration. One of the difficulties of the foreman is that he is swamped by a variety of forms, and is not taught the easiest and most efficient methods of keeping records.
State Ownership of A PROPOS of the GovernSteel Will Prove "ment's intention to
Disastrous nationalize a great part of the iron and steel industry, Sir William Rootes has said that if the bureaucrat takes over the handling, it will be a sorry day for this country. It will cause untold hardship to the workers and artisans, and will be bound in due course to have a most disastrous effect on the country's exports. An industry, the workers in which. were beating records day by day, was being attacked on account of a political theory.