Engineers' Contribution to Practical Planning
26th November 1943
Page 24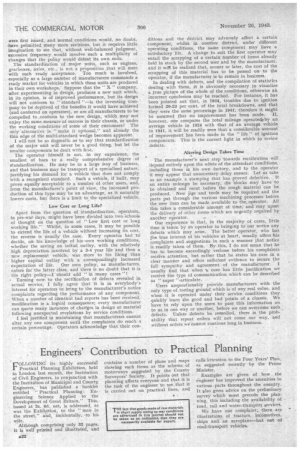 Page 24, 26th November 1943 —
Engineers' Contribution to Practical Planning
Close
COLLOWING. its highly successful
Practical Planning Exhibition, held in London last month, the Institution of Civil Engineers, in conjunction with the Institution of Municipal and County Engineers, has published a booklet entitled "Practical Planning; Engineering Science Applied to the Development of Great Britain." This, issued at 2s. 6d, net, is addressed, as was the Exhibition, to the " man in the street," and, incidentally, -to his wife.
Although comprising only 32 pages, it is well printed and illustrated, and contains a number of plans and maps showing such items as the scheme of motorways suggested by the County Surveyors' Society. It points out that planning affects everyone and that it is the task of the engineer to see that it is carried out on practical lines, and
calls attention to the Four Years' Plan, as suggested recently by the Prime Minister.
Examples are given of how the engineer has improved the amenities in various parts throughout the cottiktry. It also gives advice on the preliminary survey which must precede the planning, this including the availability of road, rail and water...transport services.
We have one complaint; there are illustrations of tracters, locomotives, ships and an aeroplane—but not of road-transport vehicles.